Hi there again,
I was flying a quadplane that had successfully RTL-ed 3 times already that day. During my last AUTO mission, the quadplane went into RTL mode and flew towards the point where it should have transitioned as usual, but then kept flying past without going into QRTL as I expected. I had to take over the aircraft to not lose it behind the trees.
I initially suspected that it did not actually hit the altitude that it aimed to be at for QRTL, but this is not the case it seems. The altitudes it managed to reach were the same as my previous flights.
However, I had set the transition radius to be 10 meters, and by measuring the closest point of approach on Google Earth it seems that it was about 25 meters off (red line was the measured distance)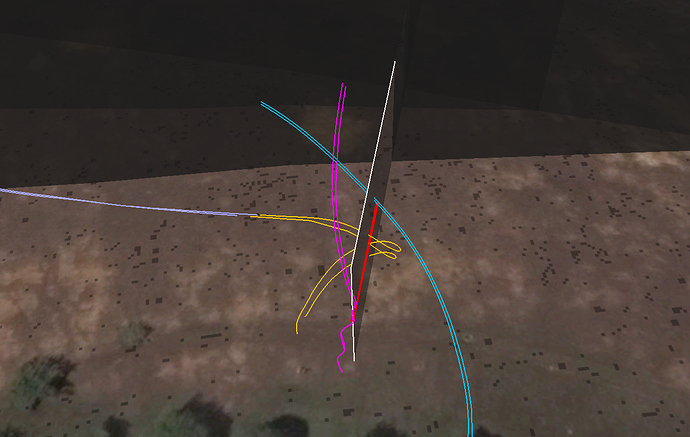 The blue line indicates the RTL approach path, the purple and yellow lines mark my own FBWA -> QHOVER landing.
I have two questions: am I right about the cause of not reaching QRTL (being too far away from the edge of the transition radius), and is this expected behavior?
This flight: https://drive.google.com/open?id=0B_bbiwjdkLT2ek9UU21Ma0RDclk
Successful RTL before this: https://drive.google.com/open?id=0B_bbiwjdkLT2T2U2c1cxeXRDNzA
Thanks!