I'm trying to get Marvelmind working on a small indoor quad with a pixracer,
I went throgh the pozyx guide here:
http://ardupilot.org/copter/docs/common-pozyx.html
I used BCN_TYPE = 2 for marvelmind.
BRD_SER1_RTSCTS 0
SERIAL1_BAUD 115
SERIAL1_PROTOCOL 13
GPS_TYPE 0
GPS_TYPE2 0
ARMING_CHECK -14
Also followed this:
https://discuss.ardupilot.org/t/ardupilot-with-marvelmind-beacons/18677
There is also little documentation for PIXRACER, which serial is serial 1? is that the one documented for GPS? that is the one I use but i also tried other serials.
Should i touch SERIAL0_BAUD / SERIAL0_PROTOCOL ? or are they left untouchted.
The reason I ask because it doesn't seem i'm getting any data, I don't get a fix to the gps coordinates I put on BCN_LATITUDE BCN_LONGITUDE , So i didn't even get to the flying part to see if it holds position well.
What should be the setup on the Marvelmind application side?
For the hedgehog beacon (the one used for non-gps) I put uart speed 115200 and UART/USB protocol on "Marvelmind" , should it be changed to "NMEA 0183" (i suspect not).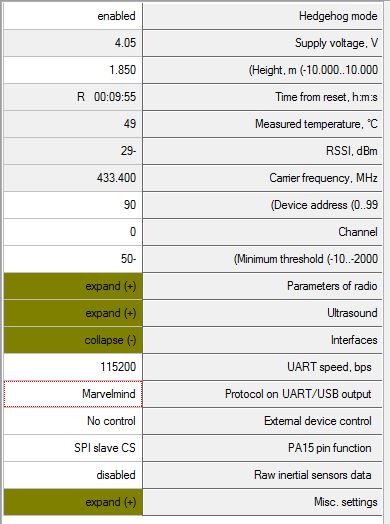 I followed the schematics of the manual to connect tx and rx so i don't think there is an issue of rx to tx and i did try crossing the connection:
https://marvelmind.com/pics/marvelmind_navigation_system_manual.pdf
The marvelmind pixhawk connection doc is very outdated:
http://www.marvelmind.com/downloads/marvelmind_pixhawk_v2016_10_11a.pdf
Will appreciate any help or insight