Hi,
I am playing with Lua scripts in order to design some bench tests for my drone.
I just had a problem on a Cube Black with AC 4.2.2: after loading a script, the cube reported an error because it did not have enough memory to load the script.
I tried to delete the script but I get this message :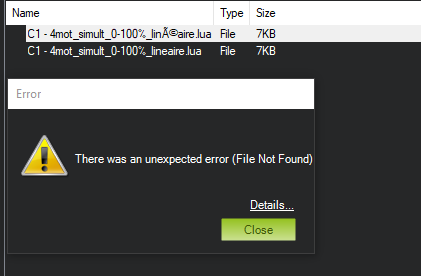 As you can see, my Lua file had a "é" letter in it, interpreted on MavFTP as "é". Could this cause the problem ?
I changed the Log_buf_size and checked the IMU_MASK.
params in order to allow a bit more memory on SCR. The script could run on the next reboot however I still cannot delete it.
I can upload and delete other scripts.
I tried resetting params to default, flashing a brand new firmware, nothing changes.
Any help would be appreciated !