It means future firmware releases will have it?
We understand that it is an important feature and we will bring it to MK15 and MK32 customers. Yes, it will work by firmware update.
When can we expect it on MK15?
You're running into Fresnel zone interference. I clearly see my boat at 700m, yet I'm getting blocked video and RC failsafe errors. That's running the Herelink modded for full power. I started sending the controller up a carbon pole that attaches to the side of the truck and brought my boat antennas up about a meter. Huge difference. In theory the MK15 should do better as the fresnel interface gets worse and your drop frequency.

The more i look at it the more i think it is a copy of the skydroid 16, whithout the third joystick.
Maybe the AK28 model from SIYI is the origin model of everything?
Maybe, just sent back an mk15 and got an h16, looking forward to see if updating h16 is better or a similar nightmare as the mk15.
H16 has third joystick too, i think it is way better than wheels on back. Looking forward to see if H16 can be charged while operating it.
Thanks for your attention to SIYI products
Will keep my eye on this radio, will get one once the new sticks over ip function will be released.
so has anyone picked one of these up yet? any thoughts/reviews?
MK32 Enteprise Ground Station's user manual, firmware, and app are available for download. Welcome to have a check!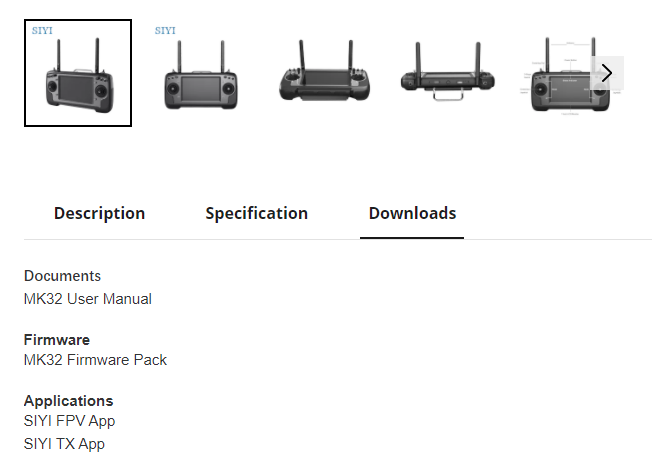 What about the source code of the android app? Checked with QT company, you do not have a commercial license, so holding the release of source code of modified QGC is against share license.
alright well i ordered one with the ZR10. I'll let yall know how it goes, let me know if you want me to test anything
Perhaps I am missing something but nowhere on the SIYI datasheets does it mention the RF frequency. Anyone know what frequency and RF power these are using? 2.4Ghz, 4.8Ghz?! Something else?
5100 to 5825 MHz
Same with MK15 and HM30
Thank you Frank.
Can you tell me the RF output power at different settings?
The default power is 300 to 400 mW
if its the same as HM30s, is it theoretically possible to get HM30 range on a mk32?
Not exactly
MK32 supports max 24 km wireless mode at this moment considering that it is not as flexible as HM30 to work with high gain antennas and antenna tracker.
HM30 is still the best option for 30 km range and above. And MK32 ground unit can connects to HM30 ground directly as controller.
But the mk32 and hm30 have the same transmission power at 300-400mw right?