I think that the 4K footage can only be shared by SD card
DHL delivered my A8 mini yesterday, I'm told it's one of the first ones sent out, hopefully it's more bug free than most of SIYI's inital hardware releases.
Some photos:

Camera and Gimbal look/feel good. Hard to explain but I can apply an decent amount torque the joints out of plane and they feel solid.
Cables are long, better than short.
Was not expecting a GH1.25 to RJ45 ethernet adapter to be included, good stuff.
I'll see how it works with my MK15(s) and HM30, it's going on my Y4 copter and it looks like a great fit.
Great post! Rob!
Special thanks to you for using SIYI products many years. It is such kind of confidence that drives us to innovate and keep improving quality.
Wish you a great experience with A8 mini and we cannot wait for your further feedback.
A8 mini user manual is ready for downloading.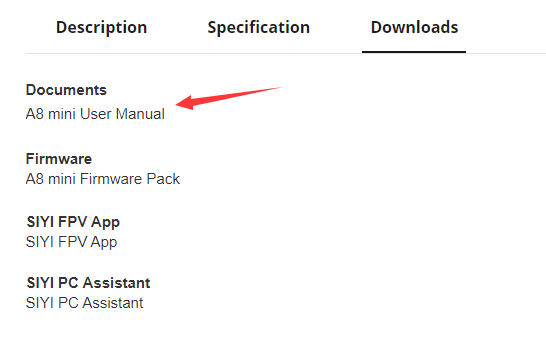 I received the a8mini product.
I installed the product as described above, but it seem to the connection is not successful with ardupilot.
No information about siyi gimbal from FC(gimbal version… etc…)
ardupilot firmware 4.3.1-rc1
serial4_protocol 8
serial4_baud 115
mnt1_type 8
and tried to change serial port, swap rx/tx…
Has anyone had a successful connection? Anything I'm missing?
In SIYI fpv app, video and gimbal operation work well.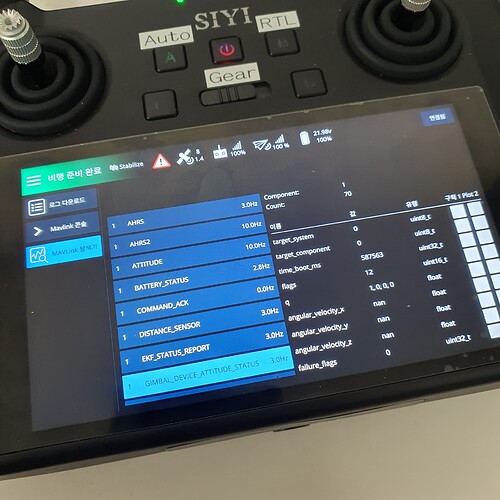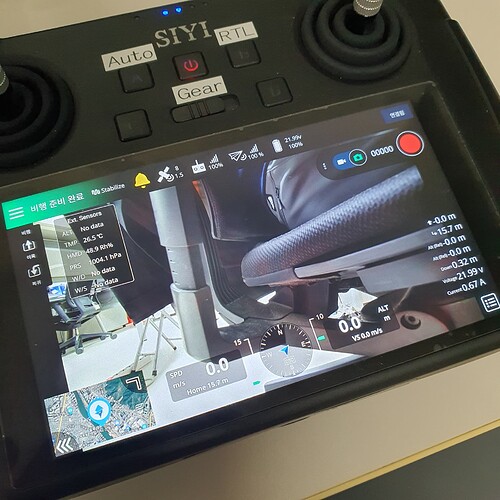 @rmackay9 Will appreciate if you can have a look on this post
I think you need to check the Gimbal firmware version too to compatable with ardupilot @steampunk .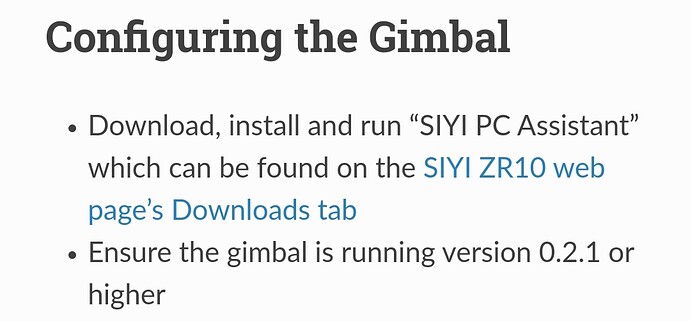 What Is the gcs showed in the Siyi hand-held transmitter…is that QGCS?
Thank you for your interest in the question.
The gimbal version of a8mini is 0.1.7.
At the end of the wiki, it is required 0.2.1 or higher at ZR10. Can someone please confirm?
@SIYI
ps. It is custom based on qgc. Just for coding practice as a hobby
Hi @steampunk
I also connected by A8 to AP yesterday and discovered this problem. I'm not sure what the issue is yet but I'm actively looking at it so I'm sure I'll have it figured out soon.
EDIT: we have a fix now so if you tell me which board you're using I'll produce a test firmware for you to try.
The issue was just that the AP driver expected the gimbal to provide 3 firmware versions (gimbal, camera and zoom) but the A8 doesn't have a zoom (at least not an optical zoom) so it only provides 2 version numbers. I think this fix will go out with 4.3.2 within a few weeks (sorry for the delay but we need to go through beta testing for all releases).
I'll update the wiki as well to clarify the required firmware version for the A8 (the firmware numbering is different between the Z10 and A8).
This is very welcome news.
I'm using Cube Orange.
I will let you know the result.
Great stuff! thanks very much for testing.
By the way, if you look closely at the image you've posted above you'll see the firmware version is being reported incorrectly. It says, "Mount Siyi fw 1.0.115" but it should say "Mount Siyi fw 0.1.7". This is innocuous but I've got a fix for it coming as well that will be included in the final release.