Hi everyone, I am trying to make the singlecopter featured by Benjamin Prescher on Hackaday https://hackaday.io/project/175512-the-ball-drone-project-mk-ii but working with Ardupilot.
I never made a singlecopter and I still have a lot to learn to make it work, so I share data so that more members of the forum are encouraged to assemble it and try to make this work.
My progress so far is as follows, watch the video: https://www.youtube.com/watch?v=Q6_lkOrbY-g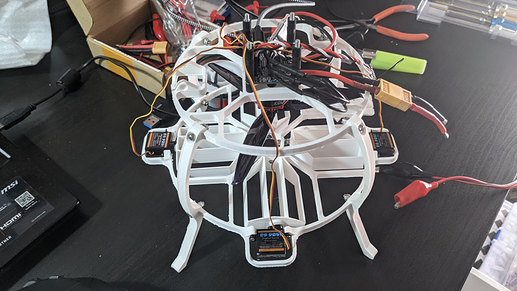 It still does not respond as it should, the thrust motor seems uncontrollable, it maintains a high speed that does not respond to the transmitter, and the blades do not know if they work as fast as they should, parameters will have to be checked. I have followed the documentation at
https://ardupilot.org/copter/docs/singlecopter-and-coaxcopter.html
Components for Ardupilot compatibility:
I await your answers, advice, and if you dare to carry out the same project, GREAT, a more detailed guide to the process could be carried out later, and improve the design, where a server has more control.