I am using a very simple python script from within MP to arm, takeoff and climb to 50m, then descend, land, and disarm. The script arms the virtual quad (sitl) successfully, then begins a climb by setting RC3 to 2000 and watching the altitude.
The problem is, once the vquad climbs to about 10m, the HUD shows "potential thrust loss", and the virtual quad presumably "falls from the sky". I am seeing the following messages: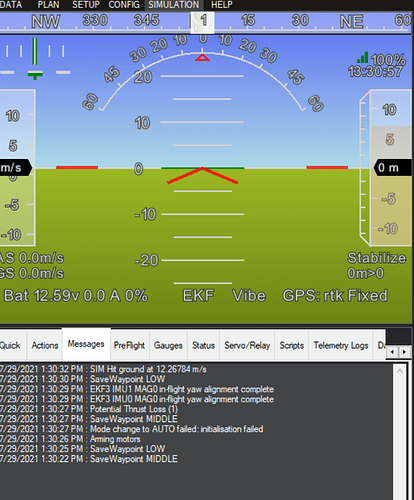 Questions:
Why is the quad attempting to enter AUTO mode by itself, if the mode is set to Stabilize? I have no such logic in my python script.
What's with the SaveWaypoint LOW/MIDDLE messages? I am not manipulating any waypoints from my script.
Why is the climb to 50m being aborted automatically after the initial first few meters (anywhere from 5 - 11m)?
Here's my simple script for reference, if it helps…
print 'Starting script'
cs.messages.Clear()

# Reset all channels to midpoints, and throttle to min
for chan in range(1,9):
    Script.SendRC(chan,1500,False)
    Script.SendRC(3,Script.GetParam('RC3_MIN'),True)

Script.Sleep(2000)

# Wait until GPS is acquired
while cs.lat == 0:
    print 'Waiting for GPS'
    Script.Sleep(1000)

print 'Got GPS!'

# Arm the quad
print 'Arming the quad...'
MAV.doARM(True)
while not(cs.armed):
    Script.Sleep(50)
Script.WaitFor('Arming motors',10000)
print 'Armed!'

# Current mode
print 'Current mode is ' + cs.mode

# Climb to 50m altitude
print "Climbing..."
Script.SendRC(3,2000,True)
while cs.alt < 50:
    Script.Sleep(50)

print 'Quad is now at target altitude!'

# Throttle back to descend and land
print 'Descending...'
Script.SendRC(3,1300,True)
while cs.alt > 0.1:
    Script.Sleep(300)

# Disarm the quad
print 'Disarming the quad...'
MAV.doARM(False)
while cs.armed:
    Script.Sleep(50)
Script.WaitFor('Disarming motors',10000)
print 'Disarmed!'

print 'Mission complete!!!'