Hi,
I can not connect Mission Planner with Pixhawk using Silkv2 radio - 433Mhz 500mW ("No heartbeat packets received" message appears). SilkV2 air radio has a solid red led (firmware update mode ??).
Some clues:
I connect silkV2 air and ground to the same PC using USB port and I can read/connect both without problems (both ways). Leds are green in ground/air radio. Paramaters in ground/air are exactly the same (attached screenshoot).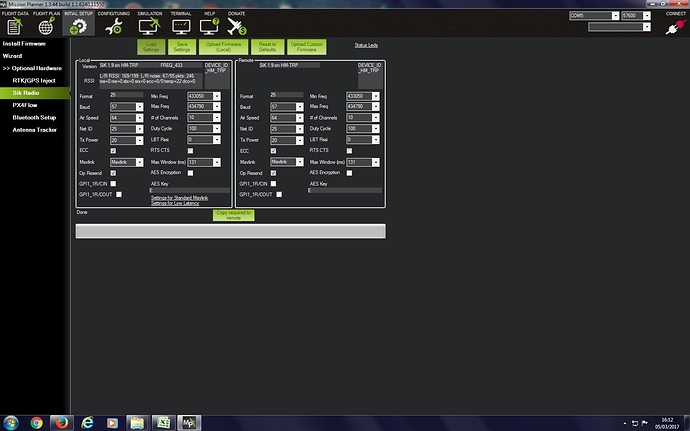 I have updated silk firmware using Mission Planner.

Pixhawk parameters: serial_1 protocol=1 (MAVLINK1), serial_1_Baud=57 (57600), BRD_ser1 RTSCTS=2 (auto).

I have tried Telem1, Telem2 and serial 4/5 ports in pixhawk with same results.
I guess the problem is between the silkv2 air radio and pixhawk. Air radio has 4 pins connector and pixhawk has DF13 6 pins connector - only Vcc/Tx/Rx/NC/NC/Gnd pins connected in pixhawk side. Tx and Rx are crossed. Can someone help me to debug?