Hi All,
I am new to traditional helicopters and wanted a new challenge of running a flight controller with a nitro engine power train.
The Problem:
I've been having significant issues with reducing vibrations that propagate to the flight controller. The data logs shows severe vibration levels which are causing major attitude estimate errors as well as position errors from the GPS.
This is physically observable too. When I attempt to take off, in stabilized mode, the swash plate aggressively and randomly applies cyclic pitch. This occurs once I increase throttle just above the throttle interlock idle speed.
Hardware Information
Flight Controller - Matek F765-WSE
GPS - Radiolink TS100
C2 RX - Frsky R9 Slim+ OTA (Running ELRS)
Helicopter - JR Venture 30 CP
Motor - OS-37SZ-HRing
Swash Plate Servos - Savox SC0254MG
Currently the flight controller is mounted on rubber standoffs within a 3-D printed protective casing. The casing is then mounted to the battery tray via 1mm thick double-sided tape.
APM Copter Software Version
ArduCopter V4.1.5 (1002fd6e)
Data Flash Logs, Heli Config File and Video Footage
I've added the flash logs, current configuration file and video of the random cyclic movement to a public google drive folder. There are two logs, one with and one without main rotor blades to try and better characterize the source of vibrations. It seems the vibrations are not from the rotor blades (I took time to balance them)
https://drive.google.com/drive/folders/1bgmqH8rLht0fl4po5LddhP20jWU-PgJ0?usp=sharing
What I've Tried to Do to Fix the Issue
I re-designed the entire battery mounting tray as I was suspicious this was the source of vibration. The original tray was quite thin and flexible. I thought it could have been violently drumming at higher motor RPM. 3-D printing an extremely stiff replacement tray did not fix the issue (see photos of new tray)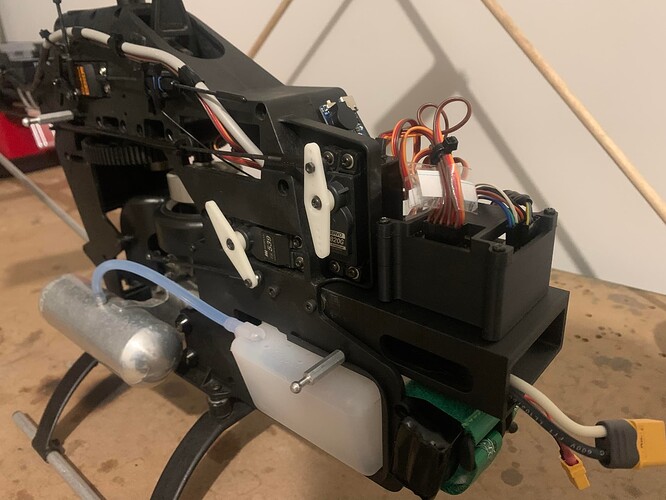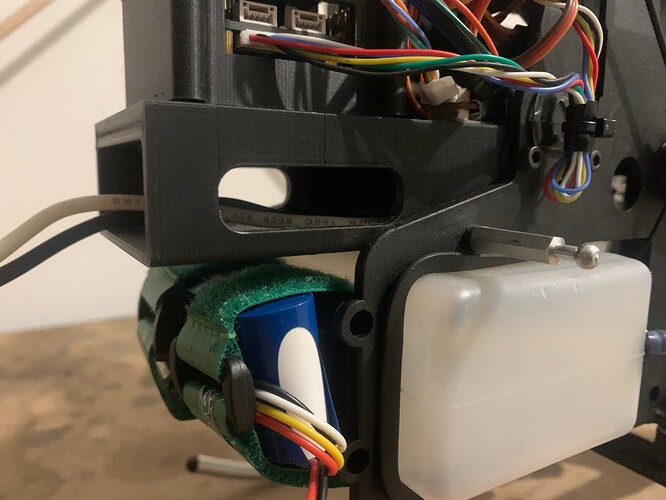 Mounted the flight controller PCB on rubber stand-offs: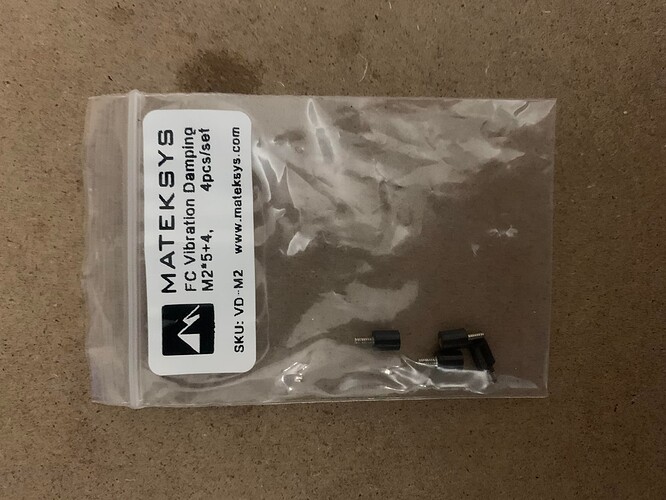 Lots of ground testing: from my tests, it seems the vibration is coming from the engine. I say this because I did tests where I incrementally removed all aerodynamic surfaces and recorded the data logs at each phase. It seems the vibrations did not change significantly according to the data. Moreover, even with all surfaces removed (main rotor blades, fly bars and tail rotor blades), the swash plate still randomly and aggressively cyclically pitched.
Advice I Need
I am hoping anyone can provide some tips here:
Is there better mounting hardware (silicone gel, double sided tape etc.) ?
Is the current mounting location of the flight controller a bad choice?
Is there a filter I can apply in software to assist in reducing the effects of the vibration (I would rather fix it through hardware before doing this) ?
Is there anything in the logs/ config file shouting that I am doing something really wrong?
Any tips would be greatly appreciated.