Hey all,
It's about time I started a thread about my project. I imagine some of you will have seen this work on the ardupilot facebook group, my project page, or eve my Linkedin account. I apologise for the repetition!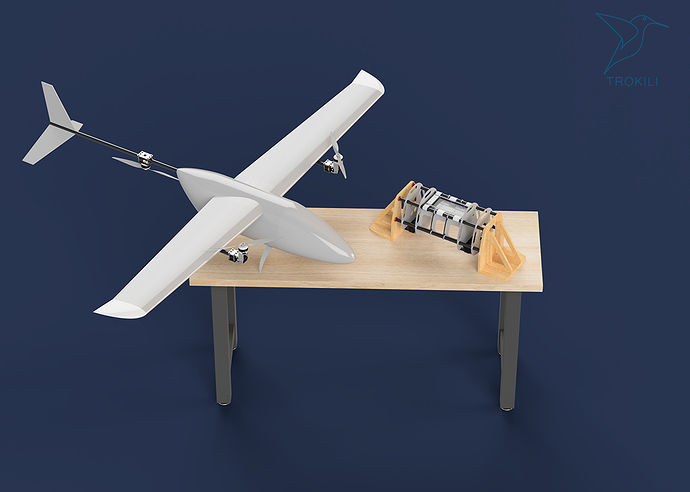 My project is a VTOL fixed wing hybrid tri-copter (initially) with a MAUW of around 11kg, of which 1kg at least is payload. The aircraft is approximately 2m long with a wingspan of 3m.
Whilst I plan to sell this aircraft as my main business, I've tried to keep a community focus sharing what I'm doing and why. This is a 2yr long project along side my day job, with a few years of exploration before that.
I'm going to keep on with the community focus by sharing my experiences with flight testing the airframe.
I've read around the set-up of these configurations, including Greg's excellent thread here. Obviously the high level configuration is similar to the Nimbus VTOL, but I won't be able to use their parameters because of the difference in size (and, I don't want to just copy their param lists - no learning in that / it's just cheating).
My intention is to take a fairly cautious approach to the flight testing. Something along these lines:
Under operator control (Qstab?):
Simple vertical hop up and down
Vertical take off and rotation about vertical axis
Vertical take off and translations in the horizontal plane
Each time checking control authority and stabilisation. From here I'll move on to more complex tests, which we'll cover as they come up. This will lead to some repetition but, that's expected, and allows me to compare results with known data when I change/add something.
At the moment the aircraft has power on, and the next task is reinforcement of the inboard wings. The tilt rotor mechanisms are out being made and are likely to be the limiting factor for when first flight can be achieved.