I had an idea for avoidance on ardupilot. Its so far working too easily, so I assume I'm missing something.
Would anything bad happen if I used lua to set a servo with a range finder attached to it to scan 45 degree sectors with a second delay at each of the 8 points, then use the same lua script to change the rangefinder orientation parameter each time it changes position?
I have tested this by manually changing the orientation of the rangefinder in parameters and it moves position so does anyone see a problem with automating this using lua?
How does avoidance treat intermittent returns? Does it remember something is there or will it immediately forget? Will it twitch?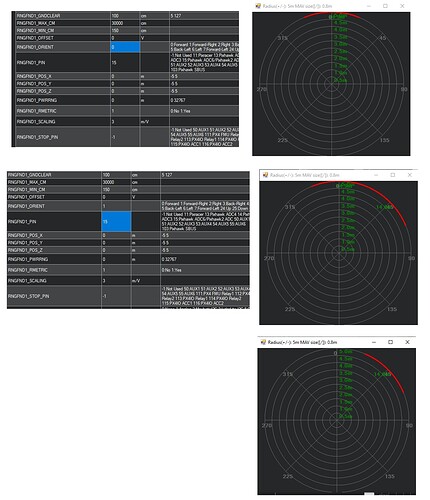 my current idea is something like this
set RNGFND1_ORIENT to 0 to set rangefinder as forward position
set servo to 900us move servo to forward position
wait 1 second to get readings
change RNGFND1_MAX_CM to 3 to avoid false targets while rotating the sensor
change RNGFND1_ORIENT from 0 to 1 to change to +45 degree position
set servo to 1150us to move servo to 45 degree position
change RNGFND1_MAX_CM to 30000 to re-enable rangefinder
wait 1 second for readings
change RNGFND1_MAX_CM to 3 to avoid false targets while rotating the sensor
change RNGFND1_ORIENT from 1 to 2 to change to +90 degree position
set servo to 1300us to move servo to 90 degree position
change RNGFND1_MAX_CM to 30000
wait 1 second for readings.
repeat for the rest and go back to 0