Issue details
Hi Guys, I have flashed and tried with latest ardupilot firmware of plane and copter in Cube Orange+, I have connected one RFD900x with Cube with TELEMETRY 1 Port, and given 5V power supply from external source, another RFD900x is connected to the PC with FTDI. RFD900x is also flashed with latest firmware(3.57) and hardware is V2.0 .
I have checked all the TX,RX Cables everything is connected fine.
When I open MissionPlanner and go to Optional Hardware → SiK Radio and then I click on the load settings I am able to see all the parameters of the remote and local RFD900x device as shown in the below image.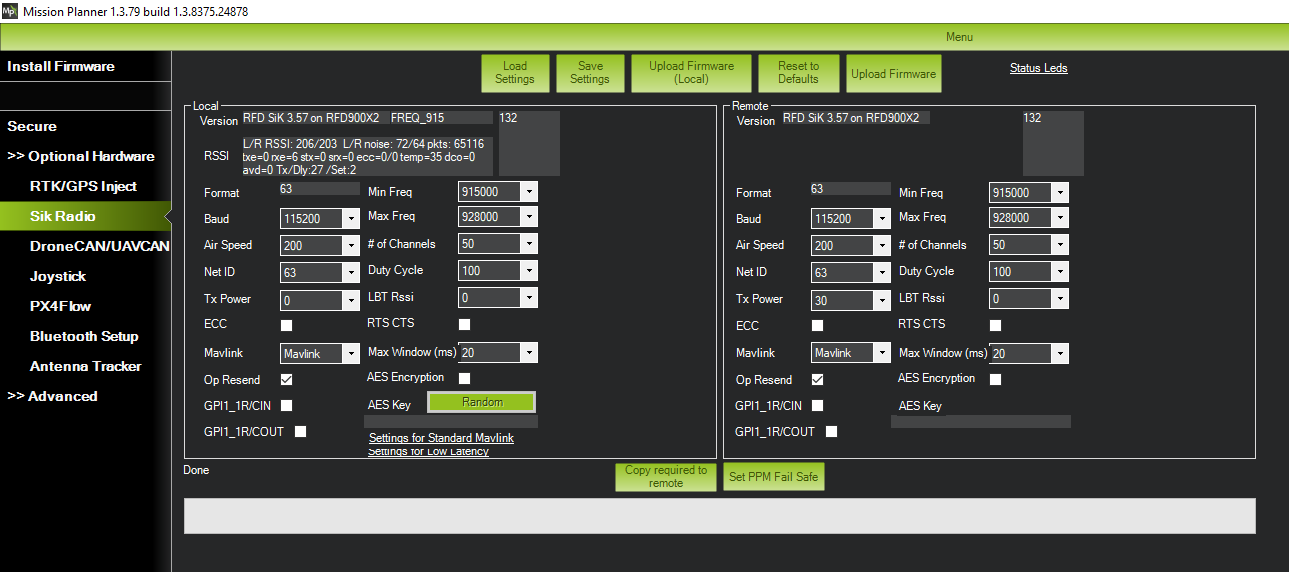 After this when I try to connect COM6, with the baud rate 115200. I get connected but then while getting the parameters Mission Planner is stuck at getting params for hours as shown below, although I am able to see HUD Parameters changing like, altitude, yaw, vertical speed, etc.

Things that I tried
I have tried these multiple things for the resolution of these issue but no luck :
Changed baud rate to 115200 and air speed to 200.
Changed baud rate to 57600and air speed to 64.
Changed baud rate to 9600 and air speed to 64.
I was also changing parameters like SERIAL1_BAUD to 115, 57 and 9, SERIAL1_PROTOCOL is 2 (MAVLink2), SERIAL1_OPTIONS is set to 0.
BRD_SER1_RTSCTS tried at 0.
TX Power tried 5,27 and 30.
I tried changing Mavlink to standard and low latency both.
I tried changing MAX WINDOW to 131,80 and 20.
RTSCTS and ECC is untick.
I also tried interchanging both the RFD900x but still no luck.
Version
Arduplane 4.3.2 and also latest version of Arducopter firmware.
Airframe type
QuadCopter and Quadplane.
Hardware type
Cube Orange+
Please provide your possible resolution for this, Thanks.