I am working on a bathymetric boat project that uses a Pixhawk black cube. I have updated all firmware, and have the latest version of Mission planner installed. I'm currently experiencing issues with the telemetry.
My current radio setup is as follows
One RFD 900 radio connected to the TELEM2 port of the pixhawk. Pins 1 and 6 of the TELEM2 port are connected to pins 2 and 4 of the RFD900. The remaining pins were wired according to this link (https://mozzie.readthedocs.io/en/latest/RFD900xSetup.html) except for the RC IN port, for I could not figure out which RFD900 pins needed to connect to RC IN.
I am powering it off of the same port (although I have come across other forums that advise against it. I will made those changes after I am able to figure out my telemetry issue).
My second RFD900 radio connects to my computer. This second radio has an FRSky d4r-ii attached to it to allow my Taranis X9D to communicate with mission planner.
I am able to pair my radios successfully. My FRSky is also successfully paired to my Taranis X9D.
The issue I am having is that when I open Mission Planner and go to Radio Calibration, I am not able to see any controls. Instead of the bars having green, they are just blank. I have attached a screenshot to show what I am seeing.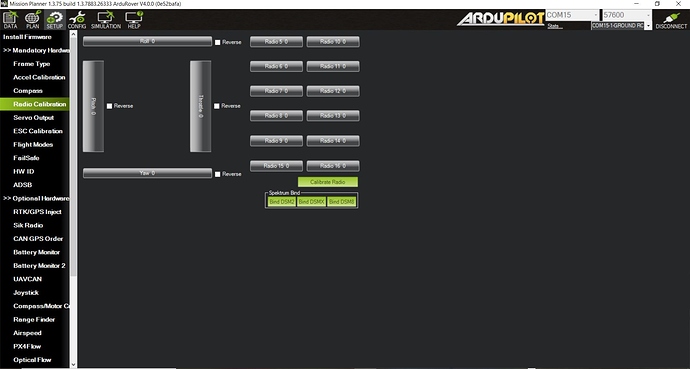 I don't currently have anything connected to RC IN of my pixhawk. If I were to need to connect to this port, which pins on my RFD 900 would I be hooking up to?
Thank you in advance for any help with this issue!