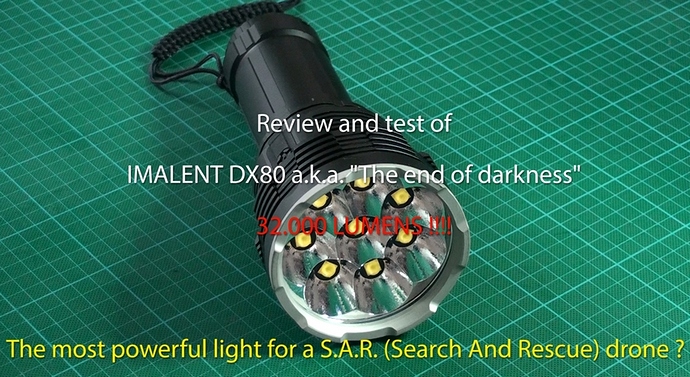 Hi Guys,
In, this video, I test and review the most powerful LED flashlight that exist on the market right now : the IMALENT DX80,
also known as "The End of Darkness", producing an insane 32.000 Lumens !
This flashlight contains its own battery pack (4S2P). Its reflector is designed to be both a good thrower (more than 700 meters) and a good flooder (more than 125 degrees) which makes it a good candidate as the most powerful search and rescue (SAR) drone light.
Of course you will not be able to use this on your DJI play toy as you need to carry this 1.2Kg payload with enough endurance for a SAR mission.
So build yourself a serious X8 multicopter with Arducopter !
Cheers,
Hugues
Wanna see more videos of my YouTube videos ? : http://www.youtube.com/c/HuguesD