I'm having difficulty with the Quadplane Hybrid RTL. Here are the pertinent params:
ALT_HOLD_RTL = 4000
Q_RTL_ALT = 20
Q_RTL_MODE = 1
RTL_AUTOLAND = 1
RTL_RADIUS = 60
Flying a 3DR Aero based Quadplane around in FBWA at 55m and 218m from Home, I activated RTL mode (11). I expected the plane to remain in forward flight and navigate towards home until within 60m, then start a descent to 20m and transition into Q-flight. (Do I understand this correctly?)
However, the Qmotors instantly fired up and the plane appeared very confused about what it was supposed to be doing. Both the Qmotors and the pusher motor were surging. I switched back to FBWA to regain control and transitioned back to forward flight.
Looking at the logs I see that at the moment I switched to RTL Mode, there were 4 messages generated, 2 say RTL and 2 say QRTL. Is this a bug?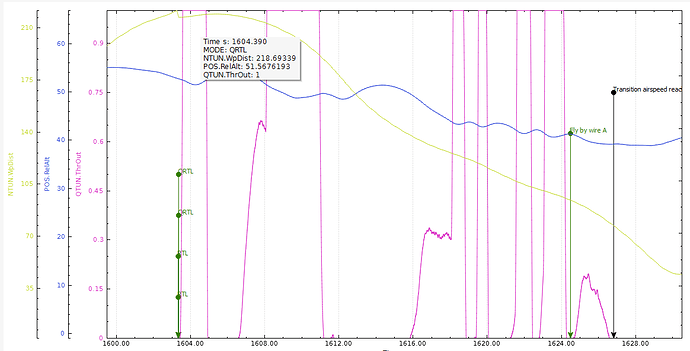 2017-02-09 14-09-53.param (13.7 KB)
Here is the .log file https://www.dropbox.com/s/yb2ismq346e6t7e/33_1900%20QP%20test%2C%20long%20circle%20loiter.BIN?dl=0