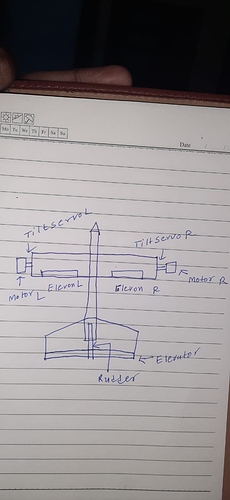 I am setting up the air frame shown above.
Currently the Quad plane is enabled and some of general parameters is setup as below
Q_FRAMECLASS 10
Q_FRAMAE_TYPE 0
Q_MAV_TYPE 21
Q_TAILSIT_MASK 0
Q_TAILSIT_MOTMX 48
Q_TILT_TYPE 3
Now, here my problem is in manual mode there is no servo output except throttle.
the another problem is when i switch to QStablize (or any QMODEs) mode the Horizon level display in mission planner becomes green showing the craft is flipping.
what parameters i have to setup for first flight test?