Hi all,
I have a Pixhawk 2.4.8 running Arducopter v4.0.3.
My drone appears to fly fine in stabalize and alt hold mode. However when switched to loiter mode it drifts at around 1-2m/s in a seemingly random direction.
I have recalibarted the accelerometer, compass and radio with no success.
Note that I am only using the internal compass on the Pixhawk, as the GPS compass appears to not work with my firmware. I recalibrated the sensors mentioned above between the two flights.
Here are the log files for the two flights where I attempted loiter mode.
I also have recordings of the flights. Here is a short video of two attempts at changing to loiter mode.
Now being quite new to this hobby I am not hugely familiar with how to read the log files, but the things that catch my eye are the pitch/roll graph and the GPS speed graph, shown respectively below.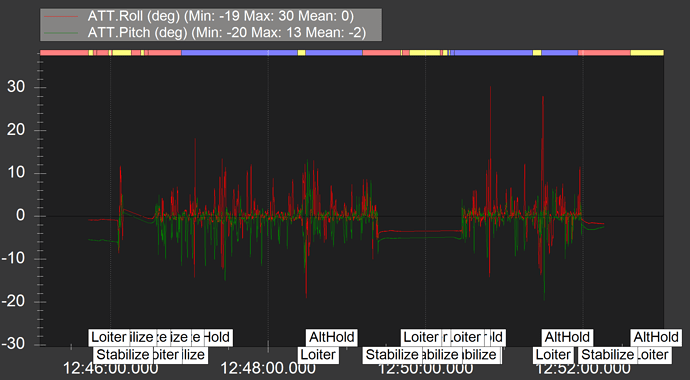 Running log analyzer gives these results (note the fail on the compass).
Suggesting it may be a problem with me only using the internal compass. I have also not ran the compass motor calibration. Could this be the problem? I didn't think that the compass was used during loiter / pos hold mode.
I have also just noticed the GPS_GLITCH error. Although I checked before the flight that I could change to loiter mode successfully and it said I had >10 satellites.
Thanks in adance for any help and I hope you are all staying safe!
EDIT:
Having run the compass motor calibration, this is the graph that is produced.