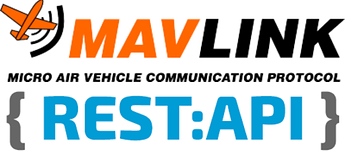 Pymavrest is another RESTful API for MAVLink enabled vehicles written in Python.
With Pymavrest, you can easily monitor vehicle state (MAVLink messages) programmatically (using any programming language capable of doing HTTP POST/GET requests) or from your favorite browser, as a JSON object.
Here are the ready-to-use, key features:
Get all vehicular data at once.
Get a specific message by name or message id.
Get timestamp (wall clock, monotonic counter) or rate of messages at once, by name, message id.
Try to reconnect to master after some specific time if no message is received during some period.
Drop non-periodic messages after some specific time.
Whitelist & blacklist support of messages, if you only want or don't want to see some specific messages.
Get all on-board parameters or a specific one.
---
This started as a self-paced project and it is still in its early phases, many more features will come.
Hope this will be useful to those who want to show vehicle state in some graphical interfaces or monitor vehicle state from different processes.
Feel free to comment down below, and if you want to see some features, face an issue, trouble using it, please create an issue on GitHub.
Happy coding