Hi all ,
the new tab ( PreFlight ) in Flight Data of mission planner is good function for check list .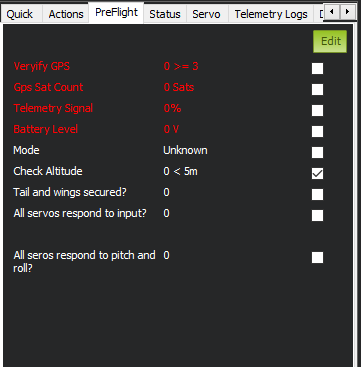 but as I see it works in some items like :
Veryify GPS
GPS sat Count
Telemetry Signal
Battery Level
But the other options seems not working as they are always white color
also when I try to play with (Edit) button , I couldn't understand some fields to add conditions such as :

Comparison .
**
what the Comparison commands ( GTEQ - LT - LTEQ- GT -EQ-NEQ-NONE ) means ?
**
How to make it more useful as full preflight check list ?
any information may help …
Regards .