Not sure if anyone has the CUAV CAN PMU (I have like 4

)
However I have found, what I think is a design flaw.
In normal mode, powering up the PMU with the battery supplies the ESC, Gimbal and VTX (for example) with power. However what I have found is that if you connect the Flight controller to USB ONLY, for reading the logs or configuration changes, the voltage from the Flight controller is back fed through the system.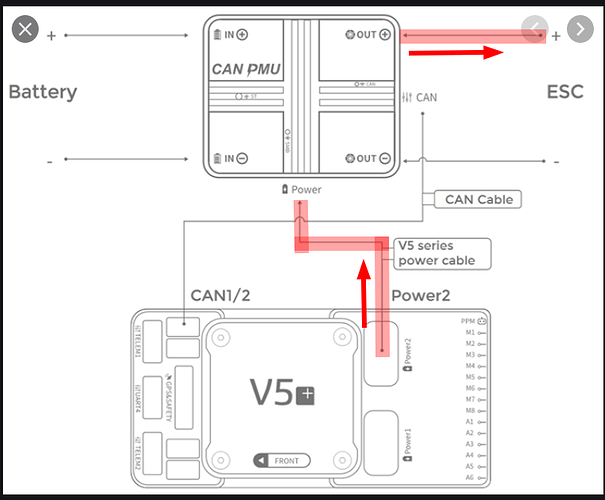 The red line follows the 5V power when the Flight Controller is powered by USB ONLY
The real issue here is that if I leave everything connected I CAN NOT power up my flight controller via USB due to the current draw on my computer's USB port. This is mainly due to the fact the my Video Transmitter and Gimble are trying to power up, but lacking due to only 5V and no available current to speak of
In the mean time when I need to make changes or read log files I unplug the power feed line from the PMU to the Flight Controller. I have ordered a couple of Schottky Barrier Diodes that I am going to place in the 5V power lines between the PMU and the FC.
Just wanted to make sure if anyone else has this PMU they are aware of this issue.
I am in contact with CUAV and we are trying to work through it to find out what changes need to be done officially