Hello everybody,
I have been using the forum for inspiration & guide in order to build my first quadcopter running with FC Pixracer.
Problem description
I had finally 2 succesful flights, but after one bad crash (fail GCS connection may be) it started to wobble severely because of motor 1 & 2 fluctuating rpms. The two motors become quite hot, way hotter than motors 3 & 4.
After the crash, the quadcopter had just a scratch on motor 2, but the ESC looked intact and the motor turns without issues. Also a slghtly broken frame on one angle, but it's minor.
I reflashed the firmware (4.0.6), resetup everything, did allcalibrations and the wobble even got more severe after the 3rd flight after the crash(at the begginning it was only in stablize mode, but then was disappearing with loiter and autohold). The wobble is on every mode now, flies, but very shaky.
I tried to swap the motors 2 & 4 (paying attention to rotation during setup) and the motor 2 looked underpowered and the quad was leaning towards it and looked as it would turn around. Therefore concluded that's the ESC. I had only simonk for the test, while the others esc are blheli_s and may be my test was not good because of this. Anyway, the quad flied, but after 1-2 mins crashed, surely because of the simonk odd esc.
My analyze: I reviewed the log and I can see this clearly in RCOUT. I don't see any very large fluctuations of the gyro, acc & compass sensors.
The problem is, I cannot find the exact reason for this.
Can somebody help me please how to analyze and fix the problem?
I attach the last logs with the apparent wobble.
Logs
https://drive.google.com/drive/folders/10eukdDms0xWpcysgeXr3rlC9AdOHFJuU?usp=sharing
Setup:
Pixracer r14
260mm X foldable frame
Props 6040 (pass very close to the frame, but don't touch it)
PDB Matek
4 ESC Racerstar 20a blheli_s
Motors Emax MT1806 2280kv
3s battery 4000mah
Total weight 700g (with battery)
Thrust to weight ration around 2.5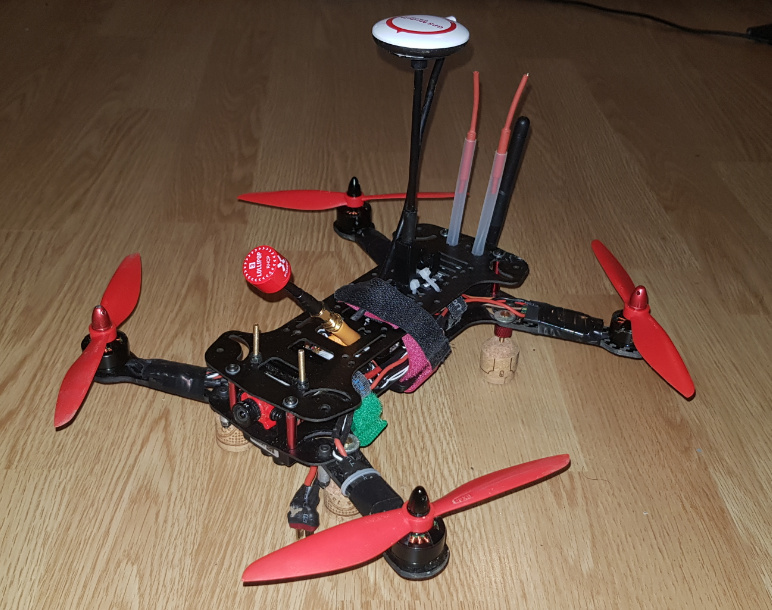 Thanks!
Kris