I'm new to Ardupilot and this is my first post.
I assemble a Quadcopter using a Pixhawk 2.4.8, safety switch, PPM module, NEO-M8N GPS, buzzer, AR620 remote controller receiver. Firmware Quadcopter 4.0.3
It is wired in the following fashion:

The PPM module is connected to the RC connector in the Pixhawk as follow: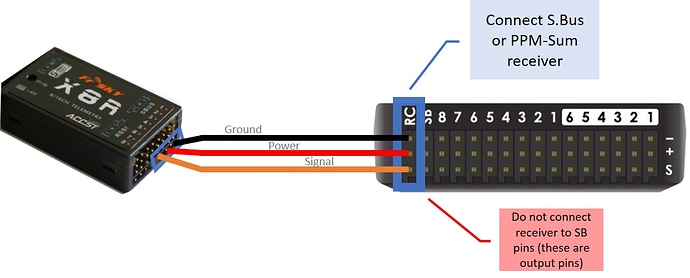 There are 6 channels connected to the RC receiver (AR620) and connector for power and ground. The transmitter is a Spectrum Dx6e.
The issue that I'm experiencing is that when I power up the Pixhawk, it powers up the PPM encoder and the RC receiver but I can't get any readings in the radio calibration dialog within the Mission Planner software. If I leave the Pixhawk power up and disconnect and re-connect PPM first and then the RC receiver everything works.
I would appreciate any suggestions or comments on how I could troubleshoot this issue.
Thank you