I recently setup a ~400mm quad with a Pixhawk with 3.1.4 firmware, and 3DR external compass/GPS. Using all default values the quad flies pretty well, but I wanted to test out AutoTune to see how well it works. I noticed the AutoTune settings make the quad feel very twitchy, and unstable. When I went to land the quad immediately flipped over and despite throttle at full down-yaw right (habit from other controllers), however the motors continued to spin for several seconds upside down, breaking props. [edit: jogging my memory, I think I landed OK after initial AutoTune and the flip happened on the very next flight…]
I thought possibly the AutoTune procedure didn't work properly, so I installed new props, restored PID values to default and tried again. After disarming and saving the new tune, and trying a flight with the new tune, again the quad flipped over in the same manner as before on landing, and again despite throttle down, the motors continued to spin.
The frame is very stiff, and the Pixhawk is mounted using the self adhesive damping foam. Using 2212 - 980kV motors, 1045 props, 20A ESCs running simonk, 3S lipo and an AUW around 950g.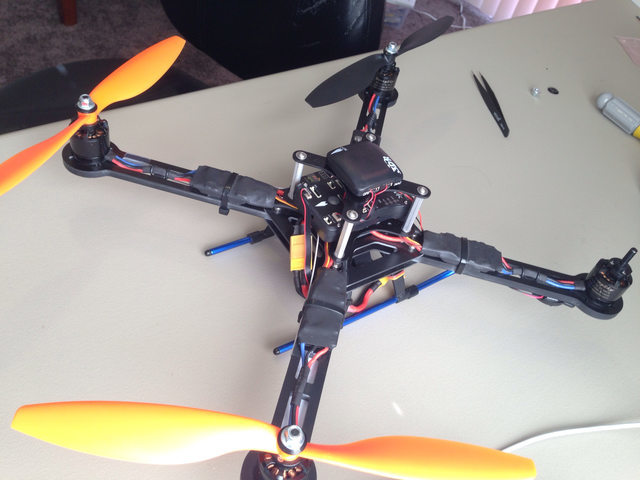 I'm not sure what's causing this behavior, but I'm uploading the logs in hopes someone here has seen this problem before and knows how to resolve it. Please let me know if any additional information would be helpful.
[attachment=0]140518_195258.bin[/attachment]