Hi everyone,
We experienced a flip crash on our latest flight test. We would really appreciate if anyone could take a look at the dataflash log and the Youtube video and let us know what could be the reason for the crash.
Configuration:
Quad Frame
T-motor Air 40A ESCs
Pixhawk v3.3.2
T-motor 4006 380KV motors.
433 Mhz Telemetry radio
5.8 Ghz video Tx connected to the video out of a GoPro
Dataflash Log:
https://drive.google.com/file/d/0B2IbWlGU-rXkRWY1ZHA0QVc3djQ/view?usp=sharing
Flight Crash Details:
We setup a simple takeoff to 20 meters and immediately LAND script using the Mission Planner and uploaded it to the drone. The drone flew quite stably for about 30 secs or so and then while Landing it suddenly flipped with its front right motor failing.
Video of Flight Crash: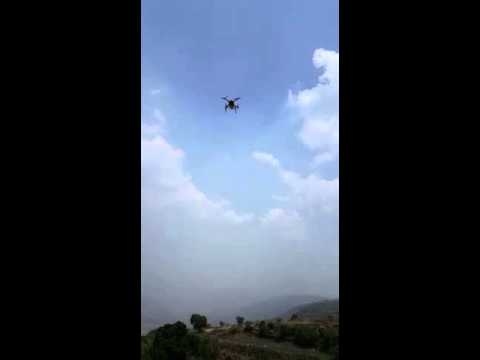 Possible issue:
Could this be an ESC sync issue? We haven't modified any of the firmware that came stock with the T-motor Air 40A ESCs.
Electrical Wiring:
We are powering the aircraft using a 6S Lipo going into a power module that's connected to the Pixhawk PM and the ESCs are powered using a PDB. These are NO BEC ESCs and each of their signal-ground servo connectors is connected to the respective motor output pin on the Pixhawk servo rail. Nothing else is powering the Pixhawk servo rail. The X8R SBUS is connected to the RCIN port of the Pixhawk. Finally there is one signal wire that is connected to a GoPro Camera (which is supplied power through a BEC) on one of the Pixhawk AUX ports so that we can utilize the Camera Trigger functionality of Pixhawk. Finally a 5.8 Ghz Transmitter with an 11Dbi Antenna is powered from the PDB and its connected to the video output of the GoPro. No gimbal is connected.
Pictures of Drone: