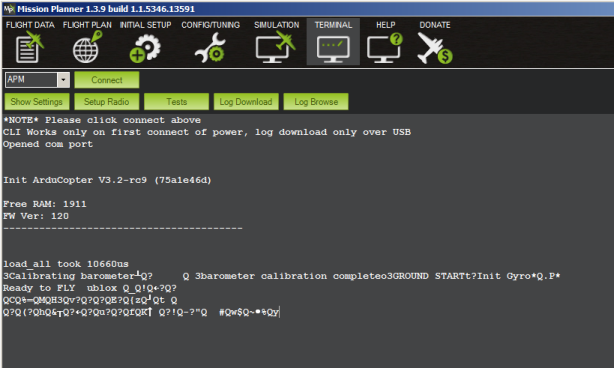 I have been asked to take some pictures of a building going up at my sons school so I thought it would be a good idea to get the latest and greatest going so I could use spline NAV. Repeat the flight again and again as it goes up.
This is an update to my 2013 Steadidrone QU4D which is stock and has performed perfectly to date.
Spektrum DX5e transmitter I think its an AR600 something receiver.
So I did the update, flew an autotune saw that the loiter was toilet bowling (which it did'nt used to) so I thought OK MOT and when I did I received the message above in terminal. Ah not to worry have another APM, 2.7 from HK lying around time to test it. Took out the old one, put in new added all the FW and the same message. Oh blast.
Give it another auto tune anyway just because its cool.
I thought that I had saved it properly but maybe not. After the tune I landed and thought I would fly again and see how the settings were and all was good for a while (minute or so) and then it shot off. I switched to stabilize too late it leveled but still smacked the ground.
I heard an RTL on my Andropilot so perhaps its a radio glitch. I am ashamed to say I did'nt fiddle with failsafes before this flight.
Creating the first LiPo fire I have ever had!!! Nothing serious lots of smoke and excitement.
Comedy video to come.