Looks like this issue was discussed before, but it's not fixed on any firmware.
Basically assigned ESC to PH2 FC and Motor Test number does not match when Motor test is performed.
Documentation shows Motor A - connects to FC #1, Motor B - to FC #3, Motor C - to FC #8, Motor D - to FC # 4, Motor E to FC #2, Motor F to FC #6, Motor G to FC #7 and Motor H to FC #5 as illustrated on documentation.
But, actual Motor sequence comes out at Motor A (M-A) is run at A, M-B is at F, M-C is at D, M-D is at G, M-E is at B, M-F is at C, M-G is at E, and M-H is at H. So, only matching motor test run are A and H, all others are miss matched. Attached image with new FC ESC assigned seems to work properly for motor sequence.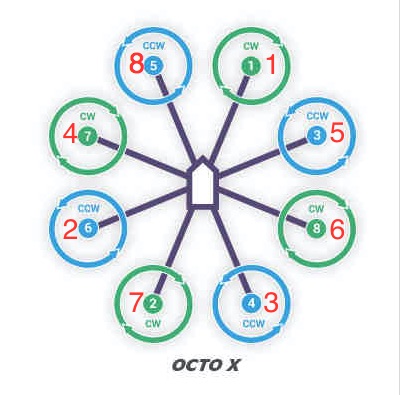 Will do more test later on…