I am seeking community assistance tuning an octo-x copter. I flown it a few times. I've tried to make changes to improve flight characteristis but I've only made things worse. Last flight ended with a very hard landing. I've read many posts several times, but I must be missing something. Below are the specs and information about the copter.
I'll update the firmward to the latest version before atempting another flight. Thank you for having an interest. Sincerely - Seth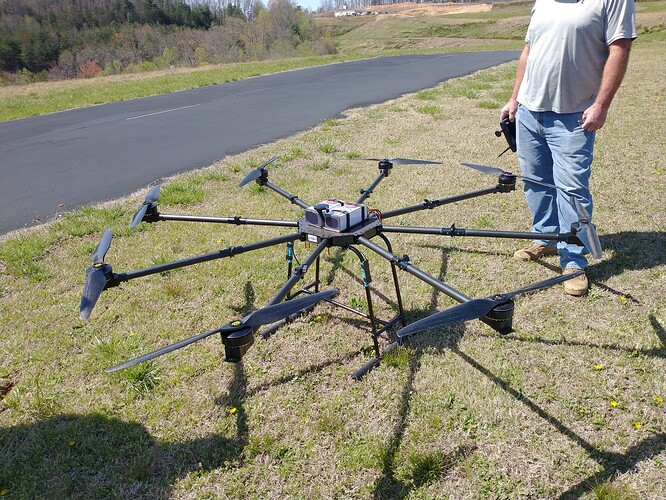 Specs.
1600mm Octo-x copter, carbon fiber frame (unknown manufacturer)
28 inch non-folding carbon fiber props (unknown manufacturer)
HobbyWing Xrotor HV Pro 80A speed controllers
outrunner motors (unknown manufacturer)
two 6s 22,000 mah lipos in series (44 volts)
orange cube on ADS-B Carrier Board
Here3 GPS
Herelink radio
Batt monitor & power supply

Mauch 024 – PL 4-14S HYB-BEC – 2 x 5.3V & 1 x 12.0V
Mauch 004 - PL-200 Sensor Board

All up flying weight 43 lbs (19.5 kg)

Copter 32 lbs
Batteries 11 lbs
I set up a simple fixture so I could measure prop thrust. I recorded voltage and current using the onboard Mauch sensor. I actuated a single motor using Mission Planner → Initial Setup → Motor Test. I tested the motor for 15 sec starting with a throttle % of 10 stepping to 100 in increments of 2. The raw data is in column A, B, C, and D of this google sheet. I tried to transform the equations so it would give the same results as pwm values but I'm not sure I was successful.
Below are three flight logs. Parameter settings are slightly different for each flight.