I fly a TwinStar airframe with a Pixhawk 4 Mini, ArduPlane 4.0. I use an airspeed sensor, and the system works very well overall. I flew an auto mission on a day with moderate wind (~5 m/s) with ARSPD_FBW_MIN = 10 m/s and TRIM_ARSPD_CM = 1150 cm/s.
Suddenly during straight and level flight, the airspeed became very (dangerously) low, lowest reading was 6 m/s, and the aircraft stalled. I switched away from the auto mission to guided mode and entered a loiter to stabilize and monitor the situation. I noticed that in the loiter, the throttle noise level would vary drastically with position along the circle (tailwind / headwind). The rest of the flight progressed normally. Here is a plot of the airspeed over the flight, showing the dangerous stall event around t=200s.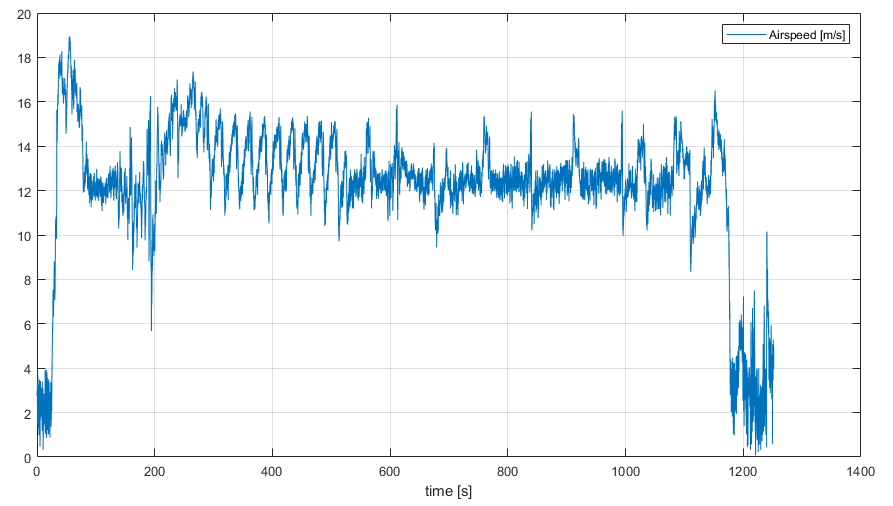 In analysis, I found that the airspeed during loiter in wind is not constant at all, but instead seems anticyclic to the ground speed: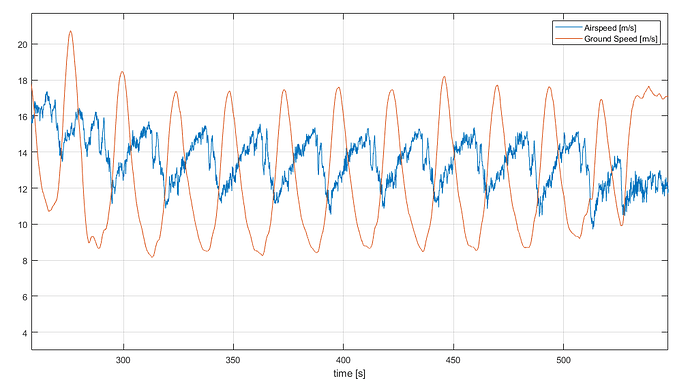 To me, it seems like the aircraft somehow tries to control ground speed rather than airspeed, or a mix of both. In the loiter circle, as ground speed increases, the aircraft decreases the airspeed, and vice versa. But from my understanding, it should attempt to maintain a constant airspeed (TRIM_ARSPD_CM) at all times.
Did I get my settings wrong so that the plane controls ground speed rather than airspeed?
Could this also be the reason for the dangerous stall event at t=200s?
Here is the dataflash .bin file:
https://www.dropbox.com/s/mj6blyvoi8udhof/2020-10-24%2016-00-18.bin?dl=1