Hello,
Currently I'm converting my skywalker x5 into a Y3 vtol plane. After all the wiring and soldering done, today I was configuring the parameters and other configurations and calibrations with mission planner. After adjusting, calibrating my radio control with the flight controller, (Turnigy 9X), I wanted to calibrate my esc next (Hobbywing XRotor 40A OPTO). But after I tried to calibrate with Q_ESC_CAL parameter (both 1 and 2) there's no respond from autopilot. All 3 esc however did have a beeping and it indicate they indeed powered up. Elevons and tilt servos however has no problem. And my radio control is calibrated just fine with my FC. I can see the input changing in mission planner when i moving my sticks.
Then I tried connecting all my 3 esc directly onto my receiver and I can calibrate them manually with no problem. Throttle is working and motor is spinning.
After that I reconnected all my esc onto the flight controller and tested either its working but unfortunately the problem still happen. I tried changing the servo rail placement for all my connections and still no luck.
Here I attached my parameter and I really hope if anybody can help and see if I messed up anything.
Thank you.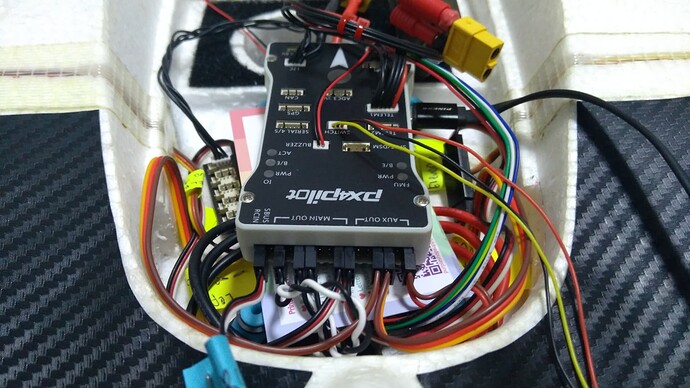 x5 vtol.param (19.8 KB)