Hi all,
I've been trying to get my rover working for a bit now and I haven't had any luck.
Specs:
Flysky FS-i6X transmitter, FS-iA6B receiver set up for PPM
3S 5200mah lipo battery
QUICRUN WP 1080 brushed ESC w/ 7.4BEC
7.4v servo
Pixhawk 4 w/ PM07power board
some brushed motor that already came on this chassis (I'm converting a kids quadbike lol)
The servo works, I've tested it with an arduino. The BEC is working, I verified voltage.
IO Out on the Pixhawk 4 is connected to FMU-PWM in on the PM07 and the servo and ESC are connected to the relevant output pins 1 & 3.
On the radio calibration screen everything looks fine: throttle etc operate like normal.
On the servo output screen, position stays at 1500 for steering & throttle even when armed & in manual mode. Switching the servos to RCIN1 and RCIN3 makes the position change on the screen but I don't see anything physically happen.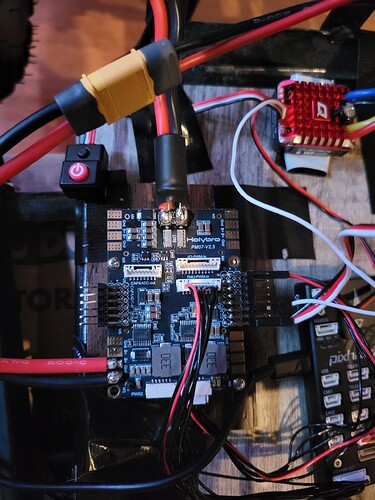 Parameters, logs:
params.param (14.6 KB)
2021-11-29 17-58-56.bin (696.0 KB)