Hello ~
I think many many drones/UAV players have known and played with Benewake TFmini, TFmini Plus and TF02 LiDAR for obstacles avoidance/anti-collision/altimeter/terrain following/distance keeping applications,etc.
Now Benewake have upgraded TFmini and TF02 to new model with better technical parameters, more stable performance and lower cost. Please check below comparasion if you inerested : )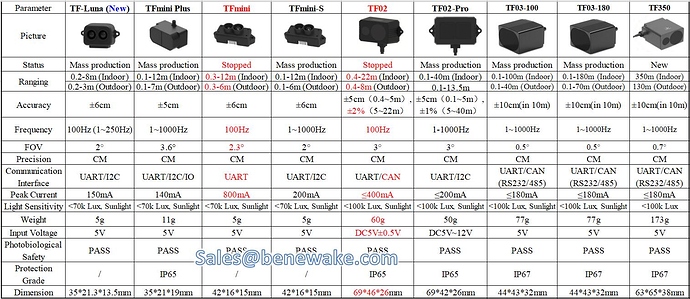 And easy buy link below
Benewake full LiDAR on IR-LOCK ( North America):


Benewake full LiDAR on MyBotShop (EU):

Benewake full LiDAR on Robu.in (India):
https://robu.in/brand/benewake/
Any technical questions are welcome to be published here. Thanks.