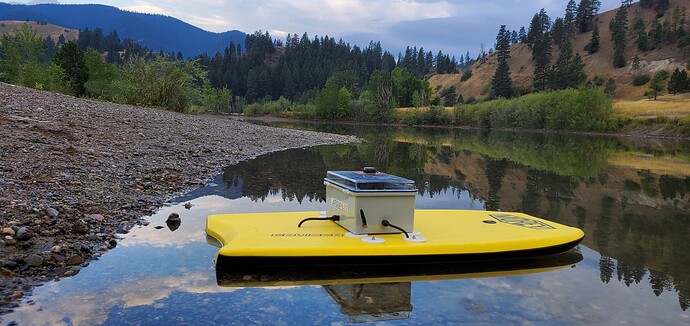 I have finally gotten around to tuning (or trying to tune) my boogie board rover. It has the following components:
Firmware:Ardurover 4.2.3 RC3
FC: Cube Black on mini Carrier board
Frame: 42.5" boogie board
ESC: Wraith32 BLHeli_32 35A running 39.2
Thrusters:T200
Telem: RFD900X
Radio: TX16S with DIY RFD900X module
GPS1: Here original
GPS2: Emlid Reach original
Sonar: Lowrance 000-0106-72
Companion PC: RPI 4 8gb
I have read and watched the videos about tuning the speed and throttle as well as tuning the steering and pivot steering. My problem arises when I try and learn cruise speed it fails every time I manually tried to set it based on the speed and throttle position I could tell on MP and my throttle position. I have calibrated my radio but even then I have to hold a bit of the right stick to the left to keep it going in a straight line in manual mode (Pitch stick is forward and backward/roll stick is left and right). Once I enter into acro to tune the speed and throttle it immediately goes into a spin. I have used the compass learn option on a switch to calibrate compasses which worked as advertised. Here is a short video of it in manual and then in ACRO mode. It will spin in ACRO I can get it to come out of the spin by full opposite stick deflection but it is wildly uncontrollable in acro. https://photos.app.goo.gl/S45BvAsa5TYDc7nL7
Here is a log file from yesterday of me trying a few things and mainly trying to burn my battery down once I realized I needed more help to get this to a tunable stage. I will post a param file once I get home. Thanks for the help!