Hi,
I'm currently working on a board to drive (4) 3W Leds for my Quad.
The prototype is capable at this time to:
Can be powered by 3s to 6s batteries.
Attiny 84 drives leds… according to firmware on it.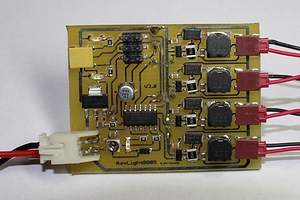 Phase 2 would be to Parse MavLink Messages…
this is where I need help for the firmware.
A connector (the yellow one) can be hook up just like a OSD, in order to sniff MavLink messages.
Not sure if my project make sense…
But the sources are here:
https://github.com/swift-depot/Navlight_AL8805
Please tell me if you find any problems with my GitHub… I'm learning to use it.
Thanks All. I'm having FUN,
Hoping to have DIYers inspiring discussions here.
-Eric