Hello,
a few weeks ago my TREX600 (with Pix-Mini) , while hovering slowly in loiter mode, suddenly tilted backwards and crashed into the ground with the tail boom. In a fraction of a second. Before that it flew several flights without any problems.
I was so frustrated that I put the heli in the corner and no longer touched.
Now I looked at the log file after all. I would like to find out of course what it was due to.
I suspect it was the GPS.
In the log you can see that the number of satelites drops to zero just before the crash. Also there is a message "GPS glitch" and "Glitch cleared".
Now I wonder, is the holybro GPS module itself the cause of the error or is the error somewhere else?
Another possible cause would be a faulty connection or a too low voltage in the on-board voltage.
I have looked at the last logs of flights before the crash.
Two flights before I also had the situation that the number of satelites went down to zero. However, no additional GPS messages came
On these flights, the on-board voltage had also dropped to min 4.52V in between. On the previous flights, the voltage was always above 5.0V.
Therefore I suspect that the GPS satellite drop comes from the low voltage.
Before I change both, the GPS module and the power module, I would be glad if I could get your opinion about my problem. Maybe the cause of the sudden crash is somewhere else entirely.
Here LogPictures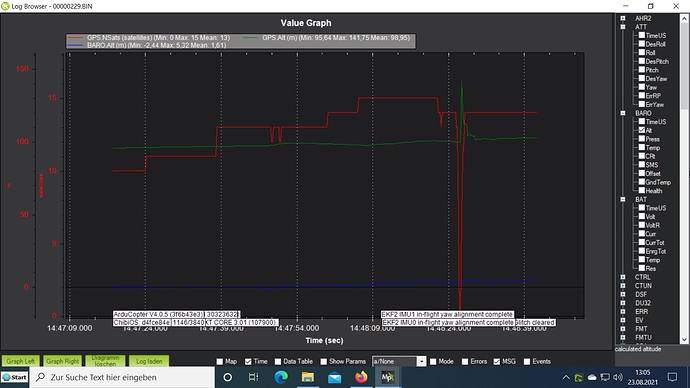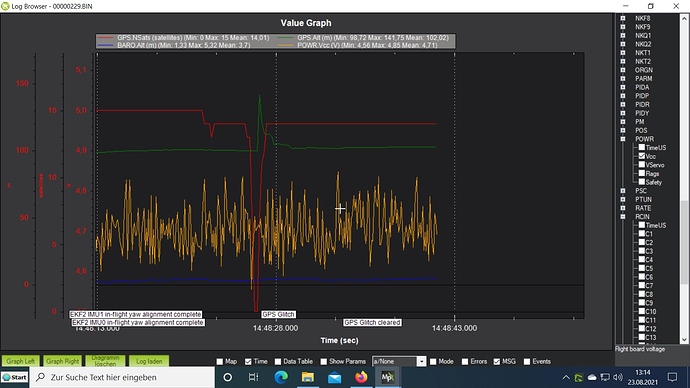 And here the link to my logfile with the crash flight.
https://1drv.ms/u/s!AjSq727ChpJzgQuU-LCoJJ_pv8xK?e=025u5w
BR
Heri