Hi,
this is to track development of the MSP DisplayPort backend for ArduPilot.
MSP DisplayPort is an MSP extension that allows to draw text on compatible external OSDs like FatSharks's SharkByte or MWOSD, DisplayPort is also known as CANVAS MODE.
Basically it's a remote text only frame buffer that uses local fonts (local to the rendering engine i.e. the OSD hardware) to render strings sent via MSP.
The protocol is pretty simple: clear buffer, draw strings to the buffer, grab the screen, draw the buffer on the screen.
ArduPilot does this at around 10Hz but current OSD hardware (SharkByte fw 09042021) only manage an fps of around 3Hz, anyway good enough for status text message scrolling.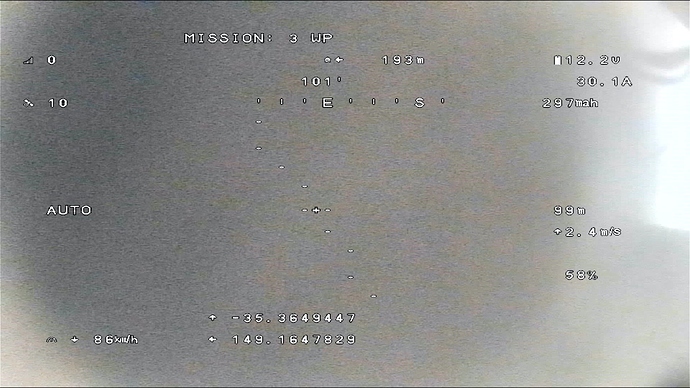 As you can see from the above image the character set is different from the ArduPilot one since for rendering we must rely on the OSD built in fonts which are somewhat limited
the code can be tested by compiling my branch or you can ask for a custom build
edit: uploaded some binaries here
to enable displayport
SERIALn_PROTOCOL = 38
OSD_TYPE = 5
tested on SharkByte fw 09042021
as always testers are really welcome