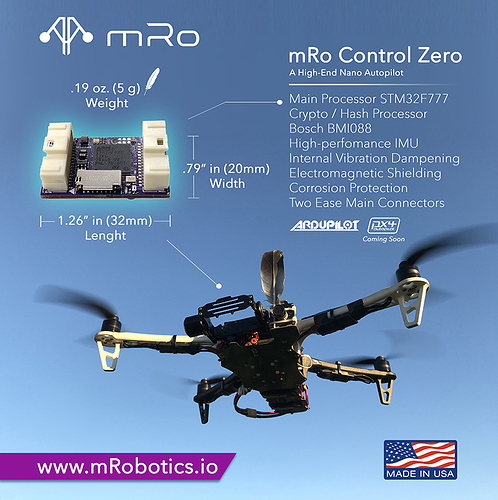 F7 a High-End Nano Autopilot…
The smallest and most powerful autopilot in the world of its kind created for a high-end unmanned vehicle builders!
mRo Control Zero, at its core, is a universal development board and is fully compatible with Ardupilot and soon PX4.
We have designed the mRo Control Zero in such a way so that it is highly customizable and adapts to industrial needs that are required, our new autopilot includes all libraries and examples that allow initializing and accessing all the sensors and functions of the board directly through our reference code and another very important thing, the manufacturing process is completely different from the conventional one which makes it much safer and more efficient.
Main Features:
Main Processor STM32F777

High-perfomance IMU

Internal Vibration Dampening

Electromagnetic Shielding

Corrosion Protection

Two Ease Main Connectors

Weight: .19 oz. (5 g)

Width: .79" in (20mm)

Lenght: 1.26" in (32mm)
Take a look this device on the mRo Store:
https://store.mrobotics.io/mRo-Control-Zero-F7-p/mro-ctrl-zero-f7.htm
Best regards to all Ardupilot Community.