I am unable to get video streaming established in the latest Mission Planner version 1.3.68.1.
My gstreamer pipeline as defined in MP is:
rtspsrc location=rtsp://10.0.1.128:8554/zedimage ! application/x-rtp ! rtpjpegdepay ! videoconvert ! video/x-raw,format=BGRA ! appsink name=outsink
Despite I have gstreamer 1.16.1 installed, Mission Planner tries to downlad something when I either confirm the pipeline string or when I click on the gstreamer button in the CRTL-F menu screen.
The download aborts with the folowing error screen: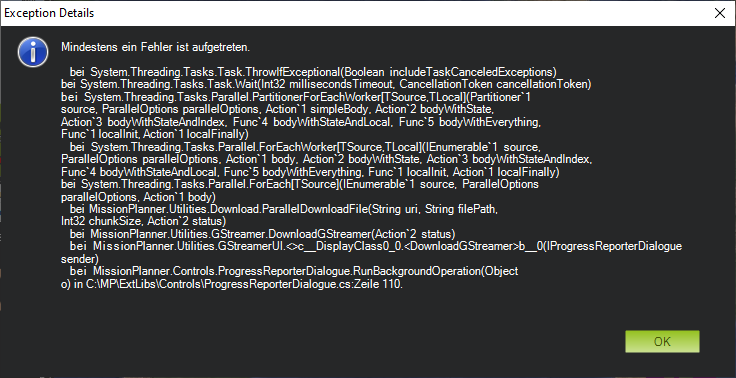 Needless to say that the streaming works perfectly well under Windows on the same machine in QGC and within a terminal window with the following pipeline:
gst-launch-1.0 -v rtspsrc location=rtsp://10.0.1.128:8554/zedimage drop-on-latency=true use-pipeline-clock=true do-retransmission=false latency=0 protocols=GST_RTSP_LOWER_TRANS_UDP ! rtph264depay ! h264parse ! avdec_h264 ! autovideosink sync=true
Given this, I assume my gstreamer install works properly.
Any ideas?