Hi, just finished a build using Matek H743 and a BLHeli (v16.7) 4 in 1 ESC.
After arming in stabilize mode the motors do not spin when armed despite MOT_SPIN_ARM being set to 0.1
Upon lifting the throttle the motors spin but vibrate and you can see in the RCout on some of the motors are dropping down to flat line and up again.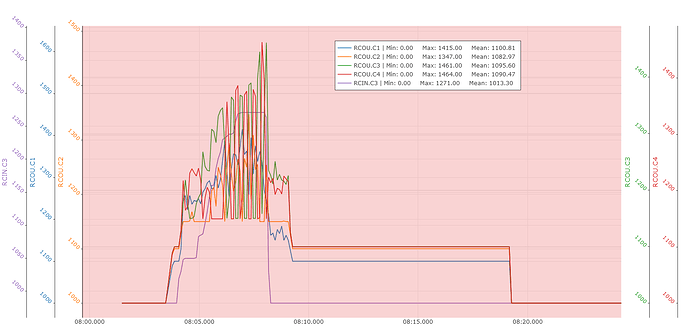 I'm not familiar with setup on a BLHeli so no doubt my setup is the issue. The normal all-in-one throttle calibration doesn't work but I can connect with the BLHeli Suite 16.7.14.9.0.2 and set Min and Max PWM to match the ardupilot servo output max and min. Is that correct?
Now I connect power and the bloody thing is beeping mental and pulsing/spinning motors. Not a fan of BLHeli at this point…