I could use some help. I have a Tarot X6 drone that has flown many missions with hundreds of waypoints. Today it was unable to load missions with only a few waypoints. As soon as the upload failed, Mission Planner crashed. It did this repeatedly. Doesn't matter if the connection is over telemetry or direct with USB. The behavior is consistent.
Here's the config:
Mission Planner 1.3.71 build 1.3.7451.16917
8/28/2020 2:02:44 PM : Frame: HEXA
8/28/2020 2:02:44 PM : fmuv3 0031003A 3235510A 31363339
8/28/2020 2:02:44 PM : ChibiOS: cb42c858
8/28/2020 2:02:44 PM : ArduCopter V4.0.1 (61f191de)
Here's a screen shot of the error message: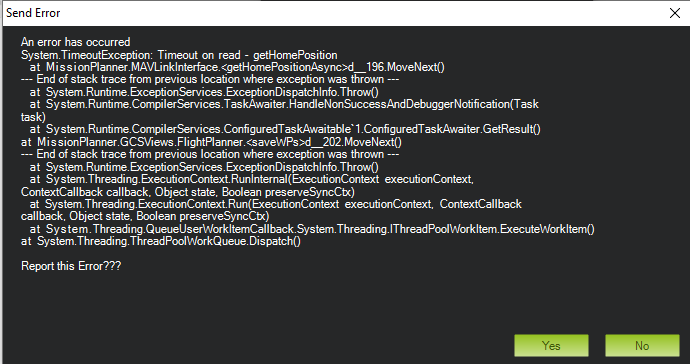 Is there a setting(s) that affects the uploading of missions? Any ideas why this is suddenly happening?
Thanks,
joe