Hi every one, I have been some problems with my drone, and I cant find the problem in the log.
I was making a Guided Mode flying, 30mts on the ground, some RTL too. On the last Guided fly the drone sudenly fall. I could see and Im almost sure the was a problem with a motor.
So, Im looking the log, and I cant find the problem with the motor. And some strange thing I found
For example, here you can see the DALT and the ALT at the crash moment, and as I understand, the DALT in this case (As i was in a guided mode at 30mt) is the altitude the drone must be, but you can see went down.

.
The flight mode was never changed until the drone touch the ground. So, if im not wrong, someting give the instruction to the drone to go down, right?
In the other hand, in the next picture I have the desire Climb rate and the real one, as you can see are oposite, and you can see how fast went down.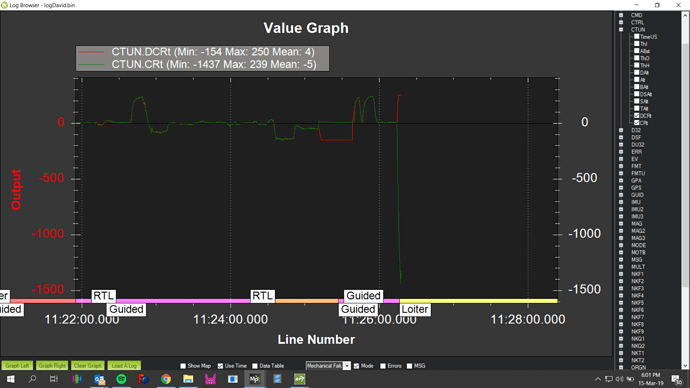 So the next picture, the motors, im very sure the motor number 3 was the one I saw failing, but I cant really see a number here give me the reason.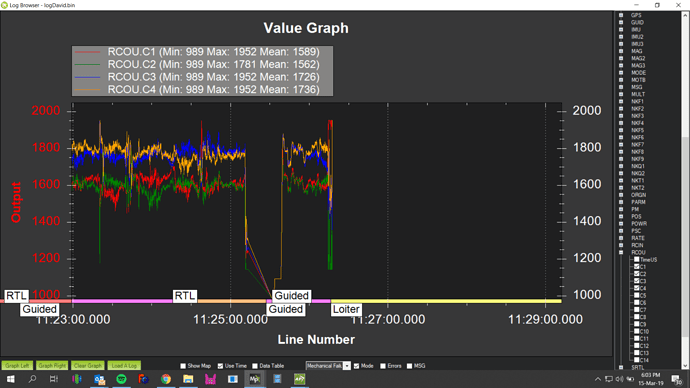 So im very confuse, I cant understand what happend, so I would like your help to determinate what whas the problem.
Im using a pixhawk 2.1, quadcopter, 12Amps 6S battery, 23V aprox at the moment, enought battery to fly. I have checked the voltage the battery after and before with a voltage meter and was ok. The drone weight almost 4.3Kg, each motor can handdle 2.2KG (Arris 4010, 380KV).
Here is the log file
http://robomotic.dyndns.org:16211/archivos/logs/crashLog.zip
I really will apreciatte your help!
Thanks!