I have a copter I really like… Little 3" prop microcopter. 1402, 8100kv motors. 2s. 190grams.
I built a twin of it, only it's lighter on a different frame. Also 3". same props and motors. 160 grams.
With the heavier copter I can fly for 7 minutes w/ battery to spare.
With the new lighter copter I can only fly for about 5.5 minutes.
I have two theories. Either this new ESC is much less efficient. Both blheli_32, bot 30 amp. Both have the same settings. Old one is Aikon AK32. New one is Lumenier Micro Razor.
Or, the frame geometry. The old one is kind of H frame, while the new one is X. They both have braces going from the front motor to the rear. I'm no expert in fluid dynamics or anything, but the way I'm imagining things, there would be turbulent air around the arms. The area between the arm and the front to rear brace is pretty tight on the X framed copter… Maybe that entire area is nothing but turbulence and not much air is going down, while the H frame has more space between the arm and the braces. I'll post a pic of what I'm thinking.
My other reason for this theory is the top speed seems to be lower. But, that is not a scientific observation… Just a few full throttle runs.
Here's what I'm thinking… Turbulent air in red, blue is the downward air.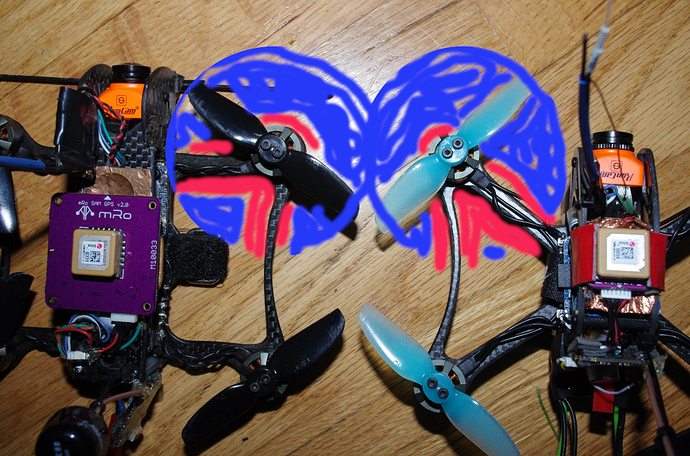 I wouldn't expect either thing to make about 20% difference!!
I do have another Aikon ESC, but really don't want to rebuild the copter… (ESC is of course at the bottom of the stack… Have to completely disassemble and rebuild to replace it).
Anyone else think my frame/airflow theory might be correct?