Hi everyone,
I'm working on a mower Rover with 2 electric motors set up as skid steer. One left, one right.
It's in 2 paddle input now but acted the same when it was set up as mixed steering.
The problem I'm having is that there is some kind of cross talk between the left and right motors.
This is easy to notice in manual mode.
When I throttle the left motor forward, the right motor spins backwards for a split second and stops.
Same with the right side.
I originally suspected some kind of motor controller regen or mechanical issue.
But I noticed from the motor controller log data that the actual input to the controller already has this problem.
From the Pixhawk log data, the RCIN looks fine.
This is 5 throttle ups of the left and then right motor.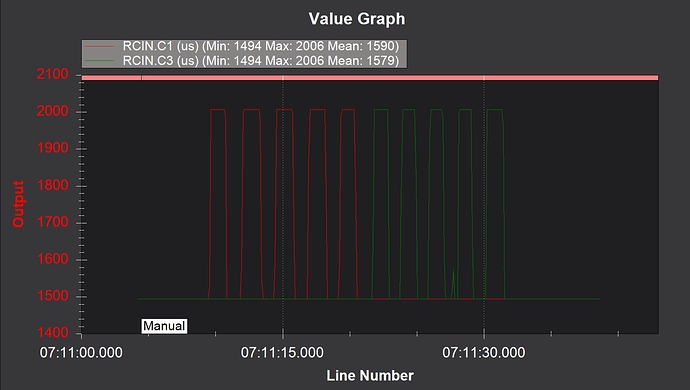 But looking at the RCOUT data there is something going on.
When I throttle up the left side motor, PWM output on the right motor also changes by ~200.
What could be commanding the opposite side motor to have any input?
(C1 = left, C2 = right)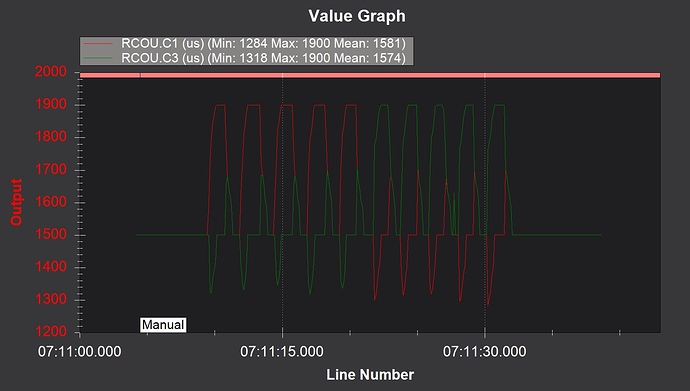 The rover is working well other than this odd issue so hopefully can get it figured out!
I have noticed some strange hunting in Auto mode and I am pretty sure this is the root of that issue also.
Thanks!!
Tony