Hello, everyone!
I am a fresh man in the domain of UAV, with just a little experience of C++.
I am trying to learn the example code, and have some confusion now, so sincerely hope someone can help me for my question that may seems childish, thanks a lot!
My question is as follows:
I noticed the statement "hal.console->available()" in INS_generic.cpp, but I can't find the function body of available().
Two known information:
The type of console: AP_HAL::UARTDriver*
The inheritance relation of class: Stream→BetterStream→UARTDriver
When I select the "available", the context window of Source Insight displays the pure virtual function available() in the "AP:HAL::Stream:public AP::Print".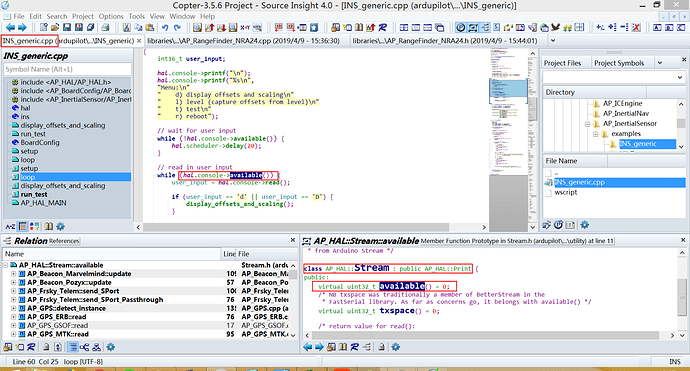 In my opinion, the available() should be redefined in the derived class. But I didn't find it in BetterStream Class or UARTDriver Class. Besides, I didn't find any derived class of UARTDriver.
PS: I think UARTDriver might have derived classes, but I didn't find them. Because I noticed there are many pure virtual functions in UARTDriver, and the definition of virtual functions should be in the derived classes.