I have an auto mission with waypoint height set at 70m
Mission completes smoothly from auto take-off to auto-landing, just one weird observation when audo landing:
70m -> ~30m : the copter descends at LAND_SPEED (50cm/s, slow)
~30 -> ~10m: the copter descends at LAND_SPEED_HIGH (150cm/s, fast)
10m -> 0m : the copter descends at LAND_SPEED (50cm/s, slow)
WPNAV_SPEED_DN is also set to 150cm/s
For the love of me I dont understand why the very first part of the descent is at the slow speed instead of obeying LAND_SPEED_HIGH and where this consistent number of ~30m comes from.
Screenshot of a mission showing the problem.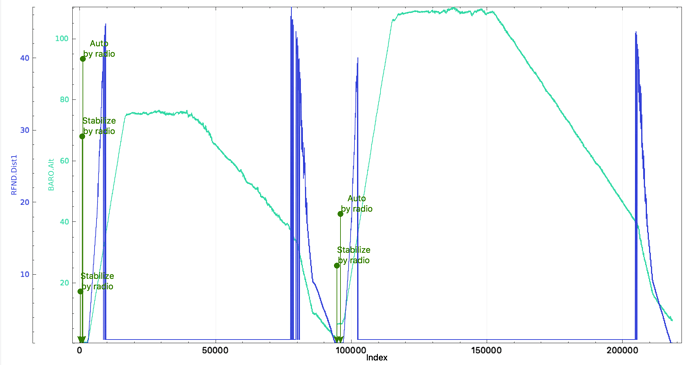 Log here: log.bin
FYI, I also notice the height reading of the rangefinder cuts out at approx 40m whereas it should be good to 100m or more. Not sure where that is coming from or if its related. Im flying over grass/trees only, no manmade structure.
GCS: QGroundControl
APM version: V3.5.2
Pixhawk 2
I have a lightware LW20 rangefinder but it is not selected in EK2_ALT_SOURCE
Pointers?