Hello,
I am trying to format a .txt or .waypoint file that can be used in mission planner. I am having a hard time figuring out where my formatting is going wrong because every time I try to load my custom generated waypoint file mission planner gives me the popup window that reads "Invalid Waypoint file".
Here is my file output: which results in the "invalid Waypoint file"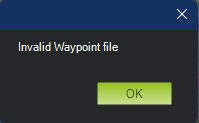 Here is a similar generated waypoint file from MP:


The above file works just fine when loading it into mission planner but the file that I created does not work. I am using 'tab' as my delimiter as requested by mavlink documentation
File Formats · MAVLink Developer Guide
I am unsure where to go from here. Does anyone see anything wrong with my formatting? Any suggestions on what I can do to get my generated waypoint file to get accepted by the MP file select feature for waypoint missions.