Our group of UAV professional and enthusiasts kickstarted the first attempt for a high-altitude UAV flight in Indonesia. The program which was initiated by AeroTerrascan, an Indonesian UAV designer and manufacturing company, has since grown into a very resourceful collective of Indonesian aeronautic devotees. The formerly named AeroTerrascan Menembus Langit has dropped the company's branding and now simply known as Menembus Langit. Literally means 'pierce the sky'.
Menembus Langit was officially started by the trial flight held at LAPAN's (Indonesian Institute of Aeronautics and Space) launch facility on 27 August 2016. The privately funded non-profit program successfully lifted a 2.9kg aircraft (600gr worth of payload) with a high altitude balloon up to altitude of 12.7km (41,600 ft) before separated and let it managed to achieve stable flight within seconds. It took more than 40 minutes for the aircraft to glide down in a loiter mode before taken over by the pilot and landed manually.

While it is (may or) may not exactly a ground breaking achievement in the international UAV world, we certainly hope it will become the start of a big things for the generally-unheard Indonesian UAV industry and community. Especially with the current state of regulations and the fact that we are trying to use off-the-shelf equipments as much as possible and will openly publish our research and findings at the end of the project.
From our mission objectives:
- To set a milestone in national aeronautic achievement
- To provide a method for reusable stratospheric research platform
- To pave the road towards HALE platform
- To inspire people, communities and institutions
For the coming month we will keep raising the altitude to reach our target of 30km (100,000 ft) and achieve stable flight at 28km (90,000 ft). We certainly hope our attempt will be able to trigger the rise of Indonesian UAV community as well as South East Asia region. Big thanks to Ardupilot community who has provided us with a system that made it happen.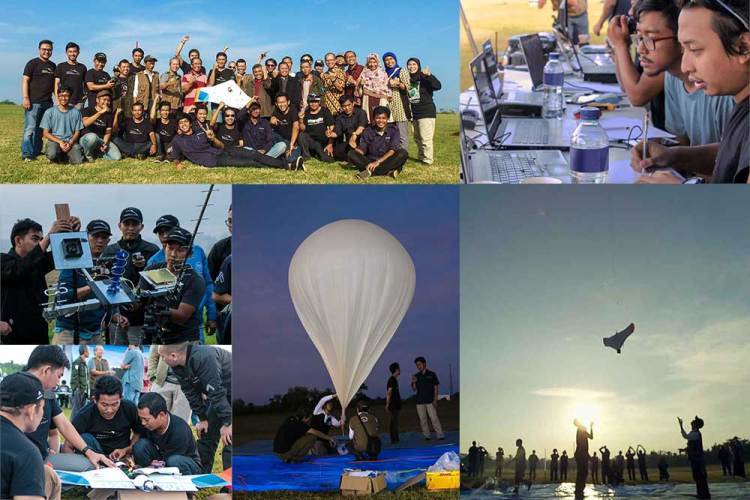 *