Hello there!
Last weeks, we have implemented some code to create a GPS_YAW with the Piksi modules from SwiftNavigation.
At the moment, we are having Fixed RTK and even a clean GPS_YAW!


Could someone please help to see what setting I need to change to force our GPS_YAW to the Rovers yaw? Attached is the GPS status screenshot and our parameters.
In the screenshot you can see that our red Yaw status is always 360 degrees. The green GPS Yaw (241,17 degrees) is working fine when I'm driving the rover.
The pink rover on the map is using the Yaw and not the GPS Yaw (always heading to the North of the map).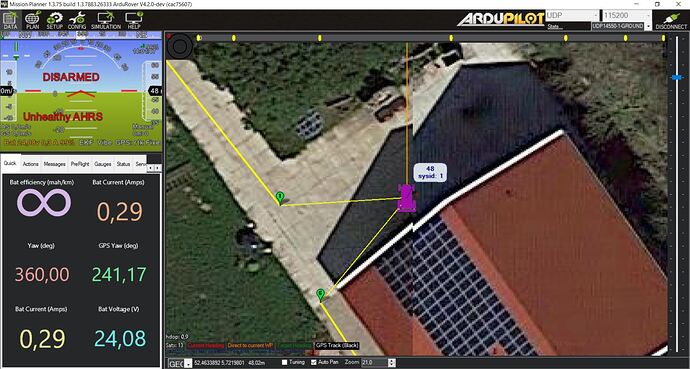 03-03-2022_gps yaw input working.param
(16.4 KB)
messages tab:
3-3-2022 14:10:09 : IMU2: fast sampling enabled 9.0kHz/2.3kHz
3-3-2022 14:10:09 : IMU0: fast sampling enabled 8.0kHz/2.0kHz
3-3-2022 14:10:09 : RCOut: PWM:1-14
3-3-2022 14:10:09 : CUAV-X7 002F0018 33395119 31303534
3-3-2022 14:10:09 : ChibiOS: 93e6e03d
3-3-2022 14:10:09 : ArduRover V4.2.0-dev (cac75607)