I've been working through the documentation on fences.
As I understand it, the first type of fence supported by ArduCopter was the "tin can" fence around "home." It's enabled by checking the "enable" box on the CONFIG/GeoFence screen.
Inclusion/Exclusion fences were added later - and created on the PLAN screen after selecting "FENCES" in the drop down menu.
My question is how do you ENABLE the Inclusion/Exclusion fences without also enabling the "tin can" fence?
My guess is that type type of fence that's enabled is controlled by the CONFIG/GeoFence drop down box that updates the parameter FENCE_TYPE.
I finally got down to the NOTE that explains this: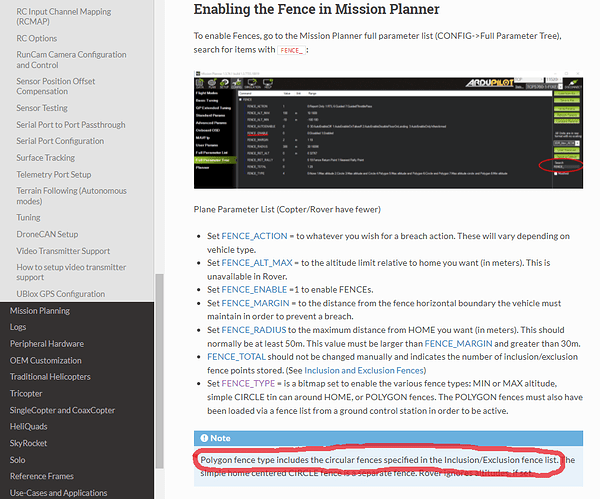 Turns out that "polygon" includes circle inclusion/exclusion fences. And "circle" specified the "tin can" shaped fence.
I've spent quite a few hours today trying to figure this out - I wonder if it might be possible to make some improvements that might be helpful. For example, instead of "circle" for FENCE_TYPE, how about calling that shape "tin can?"