Holybro Pix32 v5 Flight Controller
Pix32 v5 is an advanced autopilot flight controller designed and made by Holybro®. It is optimized to run on Ardupilot firmware and is intended for both academic and commercial developers. It is based on the Pixhawk-project FMUv5 open hardware design and can be regarded as a variant version of the Holybro Pixhawk4.
The Pix32 v5 has a modular design comprised of a separate flight controller and base board which are connected by a 100pin connector. It is designed for those pilots who need a high power, flexible and customizable flight control system. This design allows users to either use the two base board made by Holybro or customize their own.

We have designed and made two optional base boards for you to choose from, but you can also make a custom base board by yourself. You can ensure that the physical size, pinouts and power distribution requirements match your needs, and to have all the connections you need and none of the expense and bulk of connections you don't. We have also made the flight controller and base board schematics public here .
If you've tried to use a Pixhawk4 or other flight controllers but struggled to make it fit your design, then the Pix32 v5 may be the answer with its ability to fit within a custom base board with just what you need.
Base board layout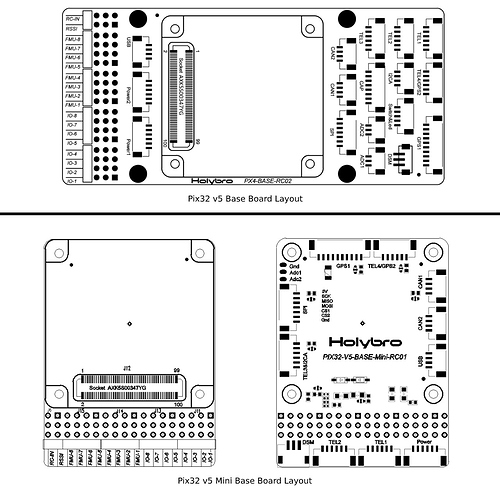 Quick Summary
Main FMU Processor: STM32F765

32 Bit Arm® Cortex®-M7, 216MHz, 2MB memory, 512KB RAM

IO Processor: STM32F100

32 Bit Arm® Cortex®-M3, 24MHz, 8KB SRAM

On-board sensors:

Accel/Gyro: ICM-20689
Accel/Gyro: BMI055
Magnetometer: IST8310
Barometer: MS5611

GPS: ublox Neo-M8N GPS/GLONASS receiver; integrated magnetometer IST8310
Interfaces:

8-16 PWM outputs (8 from IO, 8 from FMU)
3 dedicated PWM/Capture inputs on FMU
Dedicated R/C input for CPPM
Dedicated R/C input for Spektrum / DSM and S.Bus with analog / PWM RSSI input
Dedicated S.Bus servo output
5 general purpose serial ports
2 with full flow control
1 with separate 1.5A current limit
3 I2C ports
4 SPI buses
1 internal high speed SPI sensor bus with 4 chip selects and 6 DRDYs
1 internal low noise SPI bus dedicated for
Barometer with 2 chip selects, no DRDYs
1 internal SPI bus dedicated for FRAM
Supports dedicated SPI calibration EEPROM located on sensor module
1 external SPI buses
Up to 2 CANBuses for dual CAN with serial ESC
Each CANBus has individual silent controls or ESC RX-MUX control
Analog inputs for voltage / current of 2 batteries
2 additional analog inputs

Electrical System:

Power module output: 4.9~5.5V
Max input voltage: 6V
Max current sensing: 120A
USB Power Input: 4.75~5.25V
Servo Rail Input: 0~36V

Weight and Dimensions:

Dimensions: 45x45x13.5mm
Weight: 33.0g
Additional information can be found in the links below or at our website:
Pix32 v5
Pix32 v5 BaseBoard
Pix32 v5 mini BaseBoard