Hello everyone,
I made a topic not so long ago, regarding my hexacopter falling and someone said it was probably the motors that couldn't handle the weight (i.e. didn't perform as spec'd). However, I can't accept this because that would be evident right upon take-off and not after some time performing good. Right ?
So, I have another hexacopter using:
Pixhawk 2.1
DJI E800 kit (E3510 350KV; 13x4.5 prop, 20A ESC)
AUW: 6.1KG
I was doing some auto mission, a lawnmower patterns, it was performing fine (apart from weird yaw, where the hexa reached the waypoint and then would start going to the next one but going backwards and suddenly doing very abrupt yaw and also some minor altitude loss ~1.5m to 3m)
The hexa did this pattern one time, then I changed to Stab -> PosHolder then Auto again, it started 2nd time doing the pattern and everything 'good' so far. On to the 3rd time, it starts doing the pattern and about half the pattern it reached the waypoint and when going to the next one, it just lost altitude and hit the ground.
CCW motors are performing less than CW : Why this ?
This set of motors are same model as the ones I used before but they are NOT those ones. I find it very weird that in two independent set of motors, the CCW are always the ones performing poorly.
Platform is a little unbalanced (like more weight on the front), but what does CCW motors have to do with this (shouldn't be motors 3 and 5 the ones working harder in order to keep the front level'd !?
Motores are spec'd to: recommended thrust 800g (2000g max thrust each @ 14Amps), I have bench tested each one, and they are pulling the 14Amps. Find it hard to believe that they can't handle ~1016grams each.

If it's related with AUW of the platform, why did it execute the first 2 patterns and lost altitude on the 3rd time ?

Could any of this be related to PID tunning ?
Loss of altitude and crash:


RCOUT: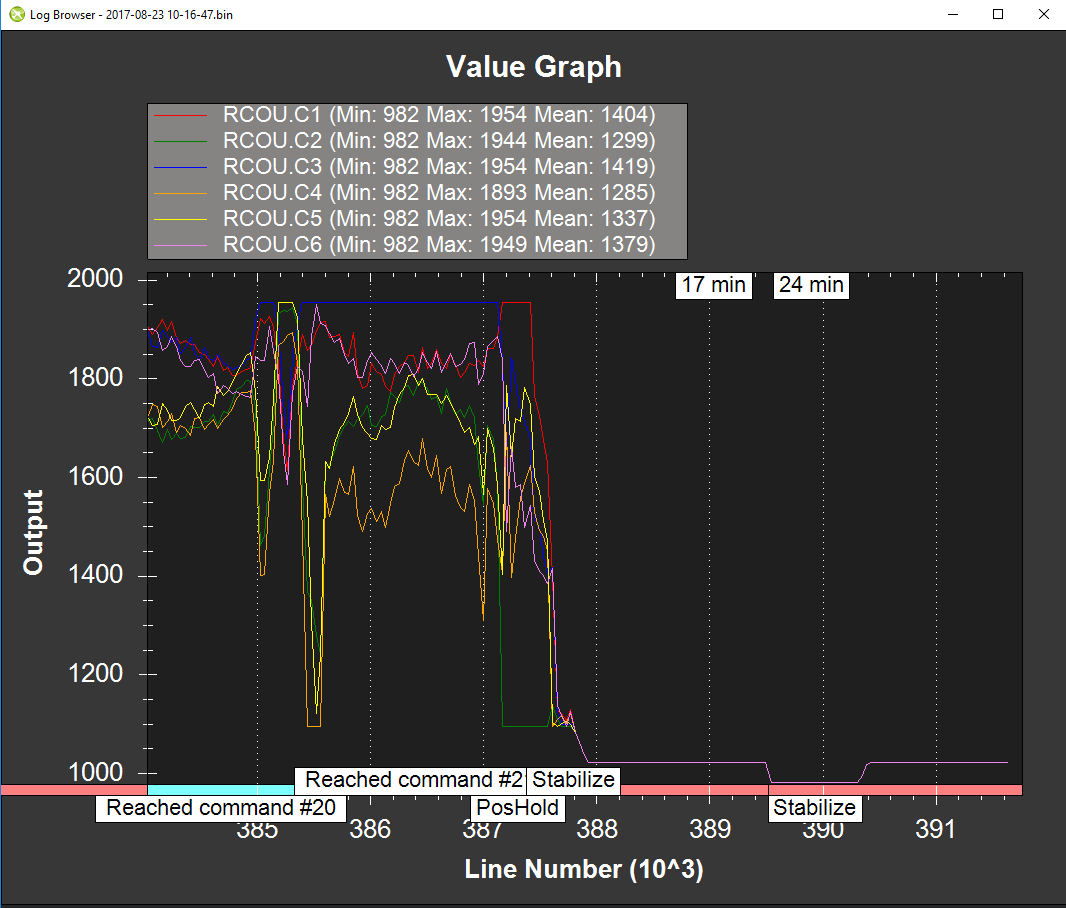 CCW vs CW:


Logs here: https://mega.nz/#F!E7gnHCqA!kWgWKD_m91Z2O75gsKDJ8w
Thanks for your time